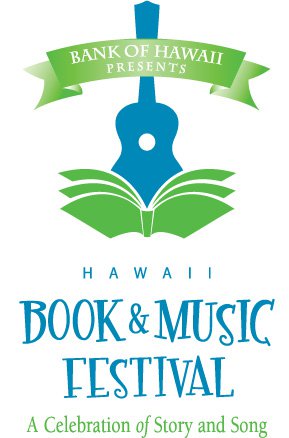 The 8th annual Hawaii Book & Music Festival presented by Bank of Hawaii takes place on the weekend of May 18-19 on the spacious grounds of the Honolulu Hale civic center.  Festival hours are 10 a.m. to 5 p.m. on Saturday and 11 a.m. to 6 p.m. on Sunday*, with FREE admission and FREE parking in several nearby locations.  Boasting numerous pavilions and stages, this family-friendly festival is always a stellar event.
Festival-goers can look forward to meeting local, national and internationally celebrated authors and illustrators; stage performances from some of our finest musicians and dancers; stimulating panel discussions on a variety of topics; story-telling and poetry slams; as well as activities and entertainment for the younger crowd. Attendees also will enjoy the popular Bank of Hawaii Book Swap, book-seller booths and a multi-ethnic food court.
The non-profit Hawaii Book & Music Festival beneficiaries are Hawaii Literacy and Read to Me International.  For additional information visit the Festival website at www.hawaiibookandmusicfestival.org.
2013 Preview:
For a full schedule with the times and location of presenters (and their related works), please view the HBMF Event Program.
Mission Memorial Auditorium Headliners

Saturday 18

th

, 10:30am -  

Kaui Sai-Dudoit's

 film 

Ua Mau Ke Ea: Sovereignty Endures, with David Keanu Sai, presents the true history of the Hawaiian monarchy's deliberate and persistent efforts to secure recognition and protection for Hawaiian sovereignty from the Great Powers.

Saturday 18

th

, 12:30pm - 

Yunte Huang

'

s 

The Untold Story of the Honorable Detective and His Rendezvous with American History 

bio of Charlie Chan–hugely praised across the country.

Saturday 18

th

, 2:00pm - 

Sam Low's

 inside story about the Hokulea

 Hawaiki Rising 

the true story of Hōkūle'a, her crew, and the Hawaiian Renaissance with Nainoa Thompson is being 

launched

 at HBMF.

Sunday 19

th

, 1:30pm - 

Susanna Moore's

 extraordinary novel 

The Life of Objects

 set in Nazi Germany
Authors Pavilion Speakers
Saturday 18th, Authors Pavilion Mauka – Arabella Ark, Dougals Corleone, Jane Porter, Mark Panek, Pamela Frierson, Tom Peek
Saturday 18th, Authors Pavilion Makai – Bamboo Ridge #100 participants, Sandra Bonura, Jim Tranquada, Waimea Williams, Susan M. Schultz, David DeLuca
Sunday 19th, Authors Pavilion Mauka – Playwright Jam hosted by Sean T.C. O'Malley, Richard Tillotson, Chris McKinney, Darien Gee, John H. Ritter, Mike Bond, Shawn Corridan
Sunday 19th, Authors Pavilion Makai – Pacific Writers Connection, Greg Shepherd, Charley Memminger, Patricia Jennings and Theresa Papanikolas, Perle Besserman, Willa Tanabe, and Local Neighborhood History featuring Laura Ruby, Ross W. Stephenson, Lowell Angell, Maya Saffery.
Alana Hawaiian Culture Pavilion 
Saturday 18th - Makia Malo, Kalaupapa (Anwei Law, Wayne Levin, Kerry Inglis), Baibala Hemolele, Hokulani K. Aikau, John Berger, Kawika Eyre, Leilani Holmes

Sunday 19th - Ku'ualoha Ho'omanawanui, Patrick Vinton Kirch, Kamana Beamer, Kepa Maly, Oli: Style & Practice, Ho'olaupa'i: Hawaiian Newspaper Project, PVS World Wide Voyage
Hawaii Council for the Humanities Pavilion
The HCH Pavilion will be hosting a number of panels based around the theme of "Telling Lives: The Art and Practice of Biography and Memoir." Here is the full list of authors, educators, cultural practitioners and other subject matter experts that will be participating:
Saturday, May 18
Sunday, May 19
10 A.M. - Kiss & Tell: The Naked Truth
Stuart H. Coleman, Moderator
Ben Cayetano, Bob Jones, Mark Panek, Sandra Simms
11 A.M. - Lives Online: Truth and Truthiness
John Zuern, Moderator
Melissa Chang, 'Umi Perkins, Catherine Toth
11 A.M. - Tell Me Your Story: Young Lives
Susan Yim, Moderator
Lee Cataluna, Chris McKinney, Lee Tonouchi
NOON - Creative Witness: Docupoetry
Susan M. Schultz, Moderator
Amalia Bueno, Wing-Tek Lum, Gary Pak
NOON - Hawai'i's Story, and Mine
Sydney Iaukea, Moderator
Leilani Holmes, Patrick Vinton Kirch, Sam Low
1 P.M. - One Place, Different Voices
Craig Howes, Moderator
Puakea Nogelmeier, Susan M. Schultz, Ku'ualoha Ho'omanawanui, Jean Toyama
1 P.M. - Breaking Records: Athletes' Lives
Michael Tsai, Moderator
Jim Becker, Sandra Hall, John Ritter
2 P.M. - True Lies: Lost in Translation
Bob Green, Moderator
Yunte Huang, Victoria Kneubuhl, Craig Santos Perez
2 P.M. - Instant Lives: Deadline Biography
Beth-Ann Kozlovich, Moderator
Rasa Fournier, Warren Nishimoto, Vicky Viotti
3 P.M. - Perfect Pitch: Musical Lives
Chris Vandercook, Moderator
John Berger, Tom Moffatt, Laurie Gale Rubin
3 P.M. - Living Memory: Honoring the Past
Brian Niiya, Moderator
Gail Miyasaki, Ted Tsukiyama, Kumu Kahua Theatre
4 P.M. - Truth in Montage: Documentary Lives
Don Wallace, Moderator
Meleanna Meyer, Nanette Napoleon, Robert Pennybacker
4 P.M. - Life Quests: Memoirs and Beyond
David Ulrich, Moderator
Perle Besserman, Malcolm Nāea Chun, Greg Shepherd
5 P.M. - Why Write Lives
Mark Panek, Moderator
Tom Coffman, Randall Roth, David Stannard, Kathryn Takara
* The Honolulu Police Department will hold a parade honoring fallen police officers from 10 a.m. to 11 a.m. on Sunday, May 19. The parade will feature some 2,000 motorcycle riders continuously circling the Civic Grounds and Iolani Palace grounds. The noise will make it difficult for speakers to be heard, so Hawaii Book & Music Festival officials have decided to start the Sunday May 19 speaking programs at 11 a.m., one hour later than originally scheduled. The program will end at 6 p.m. instead of 5 p.m.  However, the Bank of Hawaii Book Swap and all vendor and food booths will open at 10 a.m. as originally scheduled.