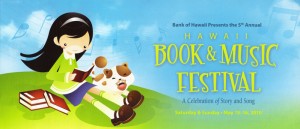 New to the Hawaii Book & Music Festival this year and a very welcome addition is the Keiki Read Aloud Pavilion.
The Pavilion will be located at the end of the new Hawaii Publishers Village on the King Street side. Wally Amos is the emcee and will read a lot of the books, too, as will an assortment of authors, teachers, and other very talented folks.
They put together as many multicultural books as possible and the line-up is great for an audience that represents the rich rewards of living in a multicultural society.  Books not displayed at a local publisherʻs booth can be autographed and or signed at the Native Books booth or Barnes & Noble tent.
Unfortunately, the schedule of books and readers isn't listed in the official HBMF Program. However, we are lucky enough to have a list of the program schedule in PDF format. View the schedules for Saturday and Sunday in the following files:
In addition to Wally Amos, there are some great author/readers appearing on Saturday including James Rumford, Sue Cowing, Lavonne Leong, Dr. Carolan and much more. On Sunday you have Maya Soetoro-Ng, Waimea Williams, Richard Tillotson and even more.
This is a great new inclusion to the Festival, one that is perfect to bring your keiki, to keep them captivated with some engaging storytime while you rest your feet and cool off.