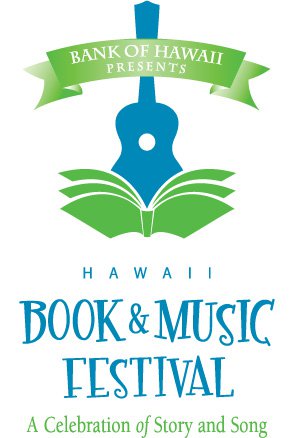 There are tons of things to do at the Hawaii Book & Music Festival. Being the book lovers that we are, we'd be remiss if we didn't highly recommend for you attendees to check out the newly formed "Hawaii Publishers Village" (as possibly coined here) located along the 'Ewa end of the Mission Memorial Auditorium.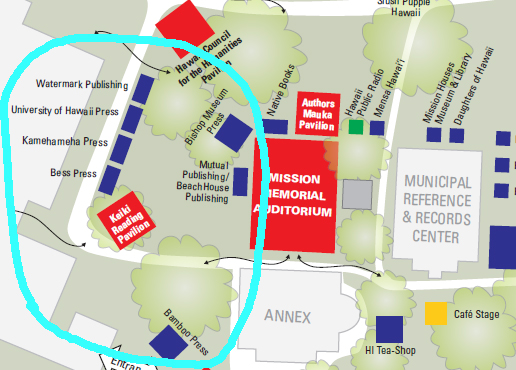 Yes, all of your favorite local publishers will still be at the festival, but they've been reorganized into one area so that you can do all of your book buying needs in one location. So, instead of walking across the entire field just to visit Dawn at Watermark Publishing and Ron at (formerly) Bishop Museum Press, I now have the luxury of seeing all of their genial faces in one area.
Here's a quick breakdown of what's going on at each publisher's tent:
Bamboo Ridge Press
Bamboo Ridge Press will start the festival with a Flash Fiction session at 10 am on Saturday in the Makai Authors Pavilion. Through out the weekend you can stop by the tent to play a word game or peruse the discounted books, some of them up to 90% off! A great chance to pick up last year's Bamboo Ridge Issue #100, or the latest release Ewa Which Way. Bamboo Ridge authors like Wing Tek Lum, Ann Inoshita and more will occasionally pop in for signing and word is that Lee Cataluna will also be hanging about the BR tent. So you're best bet, keep an eye on this area and pounce when you see the folks you wanna chat with.
Bess Press
Bess Press always has great deals on their books, many of which are educational in nature. This year at the Festival they will be selling all their titles at an amazing 50% off. You may definitely want to go there to pick up a copy of Lee Tonouchi's book, Significant Moments in Da Life of Oriental Faddah and Son.  The Ka Palapala Pookela Honorable Mention was just awarded the top prize for the national Asian American Studies Book Award for Literature.
Bishop Museum Press
Bishop Museum Press is known for having high quality books that cover the breadth of Hawaiian history and culture. At their tent there will be some awesome deals on books. They will be offering 20% off new books (usually reserved for Bishop Museum members only), as well as 75% off or more on remainders. Keiki can come by for cool craftmaking and coloring activities. They will also have a prize drawing (no purchase necessary) for a Bishop Museum Dual/Family membership plus a selection of Bishop Museum Press titles ($300 value) for the most creative answer to this question: If you could live in the ocean, what animal would you be and why?
Kamehameha Publishing
For Hawaiian language books, Kamehameha Publishing is the place to be. Their tent will be featuring the typical mix of great deals on their products, including their Hoʻokahi Kālā/Deep Discount Dollar Sale! In addition, they will have several drawings to win collections of Kamehameha Publishing titles for children and adults (retail value $200 of each collection), as well as on-going keiki activities which includes coloring activities and a chance to play their Feed Me! Hawaiian and new Kupukupu game apps.
Mutual Publishing / BeachHouse Publishing
Mutual Publishing has a diverse selection of books that range from special interest to fiction to keiki books. At HBMF, they'll have cookbooks and children's books at deep discounts and also  all of Chris McKinney's novels and copies of Hawaiian Music and Musicians at a discounted price.
BeachHouse is known for their terrific roster of keiki board and picture books. They're bringing back the buy 3 books get a rubber duck free promotion. They are punctuation ducks! All books will be priced at $3, $5, or $7.
University of Hawaiʻi Press
University of Hawaiʻi Press are well known for their academic-level books, many of which are award-winners. They'll have 15-25% discounts and will offer free shipping (via Media Mail) on books that they don't have onsite. They will also offer slightly damaged books and a few other titles in new condition at even lower bargain prices.
They'll also be distributing cards with a recipe for braised prawns from Mary Sia's Classic Chinese Cookbook, so be on the lookout for those! While there is no formal schedule, UH Press authors will stop by the tent throughout the day before and after their presentations.
Watermark Publishing / Legacy Isle Publishing
Watermark Publishing has a great collection of high quality produced books. In addition to their annual HBMF coupon, this year they've also got the usual sales going on: Cookbooks are 2 for $25 (normally $15.95 each); children's books are $6 – $12 (reg. $10.95 to $17.95); and they'll have a bargain bin full of books at $6 each, or Buy 2, Get the Third FREE! They'll also have their usual used book clearance section where books are priced at $2, $5 and $12.
Of course, Watermark will also be featuring their famous giftsets: cookbooks paired with dishtowels, "Kau Kau" set including dishtowel and crack seed, and also the Maui Book of Lavender back in print with some really cool gift sets featuring Alii Kula Lavender products. Check out pics of these awesome gift sets here.
For more check out their blog post on HBMF.
Legacy Isle Publishing is Watermark's new imprint, offering people the opportunity to produce their own professionally printed book at reasonable prices. People are welcome to come and chat with them to learn more and they'll have informational brochures available. A note of advice for aspiring writers: Legacy Isle does not produce fiction or poetry books.
[gn_divider /]
I hope everyone has a terrific time this weekend. Be sure to visit all the authors spread out across the festival, enjoy the food, fun, music and atmosphere, and definitely do not forget to support our local publishers! Read Local, Hawaiʻi!