There really are a million things you can do at the Hawaii Book & Music Festival. Misty and I often fret over, discuss, and plan out which speaking engagements each of us are going to attend. Unfortunately, even with two of us, there are so many fascinating things going on that it's hard to make a decision. Here, I've provided just a very small sampling of books that will be featured at the event; books that are definitely worth your time if you're interested in the subject.
Hawaiki Rising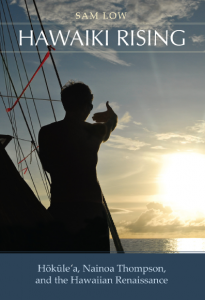 Hawaiki Rising: Hōkūleʻa, Nainoa Thompson, and the Hawaiian Renaissance tells the story of Hokule'a's creation at a time when Hawaiian culture was almost lost. The book tells Nainoa Thompson's story for the first time. The book is populated by the 'ohana wa'a, the family of the canoe – those men and women who shared the vision of raising distant islands across the sea. For a more in depth synopsis, visit Sam Low's Hawaiki Rising website.
It's a really straightforward and easy book to read with great recollections, personal insights into the Hōkūleʻa and Hawaiian Renaissance, and an account of the spiritual and cultural growth of such respected men as Nainoa Thompson. The text is supplemented with beautiful full-page black & white photographs, content-specific maps, and fascinating star charts and graphs. I especially love the star charts and diagrams explaining how the navigators use the natural tools around them in the sky and sea to masterfully find their way–with pinpoint accuracy–across thousands of miles of ocean.
At the Hawaii Book & Music Festival (HBMF), Sam Low will be discussing his 1983 film The Navigators – Pathfinders of the Pacific, the new book Hawaiki Rising. Navigator Nainoa Thompson will also be there to talk about the Hōkūleʻa Worldwide Voyage (WWV) coming up where Hōkūle'a and her sister canoe Hikianalia will sail 1,000-miles statewide, from May-October 2013, visiting 30 ports in the Hawaiian islands before departing for Tahiti in May 2014. This event will take place inside the Mission Memorial Auditorium on Saturday, May 18 at 2:00 P.M.
A Straight Road with 99 Curves: Coming of Age on the Path of Zen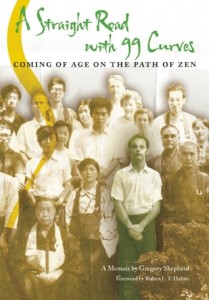 Another book you might find interesting is  A Straight Road with 99 Curves: Coming of Age on the Path of Zen, a memoir by Greg Shepherd. It's an "achingly honest" memoir of Greg's quest for Zen and spirituality in America and Japan.  It follows his meandering path from seeker to disillusionment, and, over a decade later, his way back to Zen and inner peace. Readers experience Zen practice in Japan and Hawaii, as Greg introduces Zen masters Yamada Koun Roshi and Robert Aitken, the "dean of American Buddhism." From Greg, we understand why Zen was so appealing to the American counterculture and how its profound lessons of focus and detachment remain insightful and important.
No less an authority on the subject, Zen priest James Ishmael Ford had this to say about the book:
My short take away is, I like the book, and I recommend it as among the best of those Zen memoirs that are beginning to appear on shelves… The reasons I like it are several. First it is a compelling narrative. I can taste and smell and see the territory, and the people he describes live. It is just a good read.  And, another reason I appreciate it is how Gregory (we're part of an extended Dharma family, at least as I see it, and I hope he wouldn't mind the familiarity of using his first name here) plainly addresses his struggles, his projections, his intimate experiences, and, very much, his failures.
Greg Shepherd will be discussing his memoir A Straight Road with 99 Curves on Sunday, May 19 at Noon at the Authors Pavilion Makai. He will also be participating in the Hawai'i Council for the Humanities Pavilion panel "Life Quests: Memoirs and Beyond" along with Perle Besserman and Malcolm Nāea Chun on Saturday, May 19 at 4:00 PM.
Kalaupapa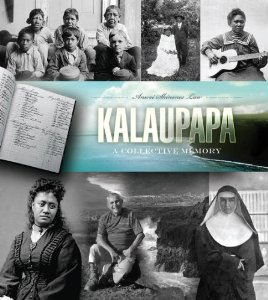 At the 2013 Ka Palapala Poʻokela Awards, Anwei Skinsnes Law's book Kalaupapa: A Collective Memory won the Samuel M. Kamakau awards for Hawaiʻi Book of the Year. As somebody who read through much of the book and praised it highly among a few of my peers, it was no surprise to me this book was selected. Here's a few revised notes from the KPP judges comments:

Passionately researched, Kalaupapa collects more than 200 hours of interviews combined with archival documents and over 300 letters and petitions, many of which are translated from Hawaiian. The book is beautifully realized by UH Press, including personal photos of people, places, and documents that accentuate the stories with striking visual components that pull you further into the atmosphere of the time and place. The stories inside are real accounts of Hawaiians taken from their homes and forced to live in isolation for the rest of their lives. It also gives them voice; you may find it surprising that despite being physically cut off from the rest of the world, many of these men and women took active roles in government. Kalaupapa is a powerful reminder of Hawaii's history, one that will resonate with you for a long time.
Anwei Skinsnes Law will be active at HBMF discussing Kalaupapa, both her book and its stories, along with photographer Wayne Levin and Kerri Inglis (who all collaborated on the book Ili Nā Hoʻomanaʻo o Kalaupapa: Casting Remembrances of Kalaupapa). That session will take place at the Alana Hawaiian Culture Pavilion on Saturday, May 18 at 11:00 A.M.
[gn_divider /]
As I've stated, this is just a drop in the bucket of the wealth of amazing speakers that will be present at the festival, sharing their deep knowledge and literary works with all of us. Either way you choose, go ahead and sit down in the shade of that pavilion, give the speaker your full attention, and you'll be guaranteed to learn something interesting.