I could go on and on about how much Eric Chock, Darrell Lum and Bamboo Ridge Press have done for Hawaii authors and the local literary arts community but it would only be redundant. One need only see the latest Bamboo Ridge Issue to know that they've been making an important contribution for a very long time, and still going strong (they are quickly approaching their landmark Issue #100). Bamboo Ridge has given voice to many great local authors like Lee Tonouchi, Lee Cataluna, Juliet S. Kono, Lisa Linn Kanae and Ian McMillan just to name a few. I'm so excited that they will be releasing their 98th issue at this year's Hawaii Book & Music Festival, I decided to do a quick review to encourage you all to come out for the launch!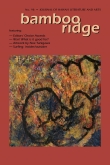 With subjects and themes that cover World War II, surf history and more, Issue #98 includes new work by writers previously published in Bamboo Ridge, as well as emerging authors: Rachel Ana Brown, Amalia B. Bueno, Donald Carreira Ching, Shoshana Hannemann, Jeffrey J. Higa, Brenda Kwon, Lanning C. Lee, Jennifer Santos Madriaga, Gavin McCall, Delaina Thomas, Jean Yamasaki Toyama, and Peter Van.
From reading various issues of Bamboo Ridge I can tell you there are some issues where poetry stands out and other issues where it's the prose. Issue #98 contains some amazing poems, especially those from Wing Tek Lum's series about the Nanjing Massacre that are even more memorable paired with art by Noe Tanigawa. But I have to admit, even with those, it was the short stories that resonated the most for me in this issue.
I'm so used to reading poems by Jean Toyama that I was pleasantly surprised to see a short-story (or a chapter from a book in progress)  titled "Uncle's"–simple and humorous about a near-blind piano tuner and his wife who looks like a teacher. It was a soothing story that felt a little bit like a lazy afternoon.
I really enjoyed Donald Ching's story "Between Sky and Sea" about a man who moves back to Hawaii–how the people and places we love change, or don't. I look forward to reading more great stuff from him.
Lee Tonouchi's story "Some Kind of Jedi" had me laughing constantly and I lost count of the instances that I thought were impossibly witty and creative. Tonouchi does dialogue so well, too well, it's not fair. Another great story from "Da Pidgin Guerilla".
Don Matsuda wrote an incredible account of his WWII experiences in "Grandpa In The Ditches With The 100th Infantry Batallion". Snapshots of the story will stay with you, like the black and white photos that accompany it.
Last but not least among those that make this book worth adding to your collection, Jennifer Santos Madriaga's story "AWAN" about a young Filipina who gets married and moves to North Carolina, is an absolute must read! When an author can make you feel emotions as acutely as Madriaga does… I can't even describe how much I wanted to cry reading it. Very strong writing, can't wait to see more from her too.
Overall, a great collection and another successful issue from Bamboo Ridge. You can purchase the book online at the Bamboo Ridge Press website. It's on sale as a pre-release! Don't forget to come to the Hawaii Book & Music festival for the launch (details below).
Launch and Reading Info:
Join BAMBOO RIDGE for their official launch of Issue#98 at this year's Hawaii Book & Music Festival.
Saturday, May 14, 2011
1:00 p.m.
Authors Pavilion, Hawai'i Book and Music Festival
Civic Grounds at Honolulu Hale
Special readings by: Donald Carreira Ching, Gail N. Harada, Jeffrey J. Higa, Brenda Kwon, Don Matsuda, Lee A. Tonouchi, and Peter Van Dyke.
* If you've never seen Lee Tonouchi speak or read his work, now is your chance, don't miss it! He's hilarious!