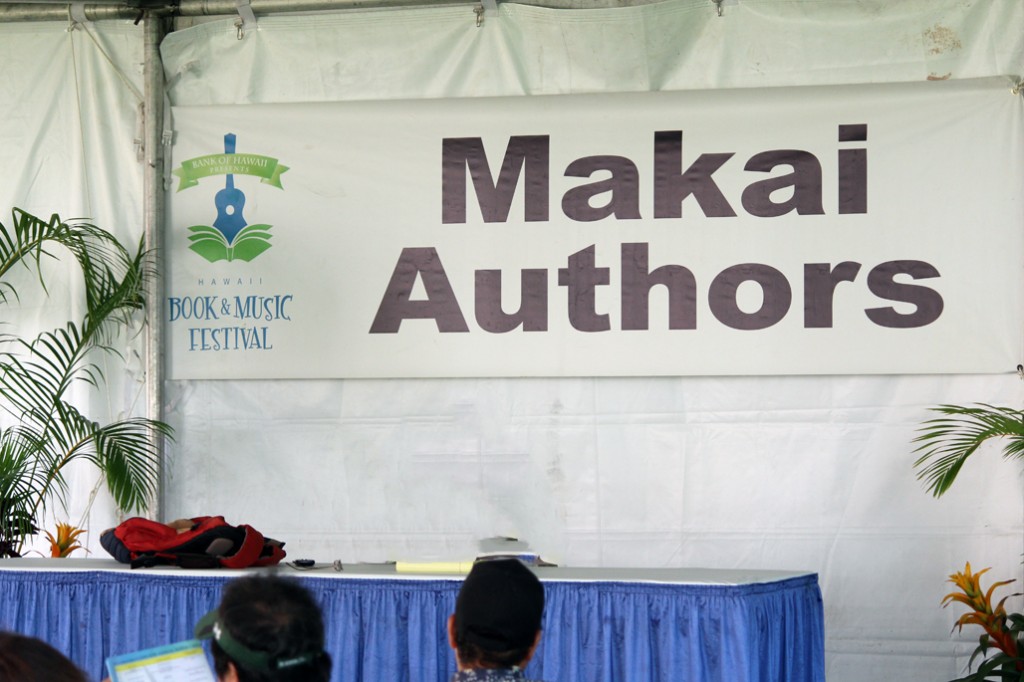 " Makai Authors."
That's what the banner above the stage always says. It's my usual haunt during the Hawaii Book & Music Festival and the place I choose to camp out in order to glean whatever knowledge I can from the writers that speak there–like creative osmosis. Every year it's the same set up: tent, stage, decorative plants, table, squeaky plastic chairs. But when someone finally climbs those stage steps and sits behind that table with their books in hand, and an audience gathers with questions poised—that's when the magic happens. That's when the Authors Pavilion comes alive. All in all, through various festivals, I have spent a total of five days at the Authors Pavilion.
I've listened to James Rumford talk about writing and illustrating in Hawaii. Learned from Darien Gee about how little inspirations can lead to big stories if you follow the emotion. I laughed and cried with the contributors of Bamboo Ridge #98. I was enthralled at the first chapter excerpt from A Year on Doreen's Sofa when Lee Cataluna had first announced that it was being picked up and published. I was educated by Douglas Corleone on the  realities of marketing at traditional publishing houses and wondered at how quickly a talk about ICE in Hawaii with Alexei Melnick turned to an existential debate in the audience. I watched Caren Loebel Fried talk passionately about art and legend and admired Dan Kois' dedication to writing about Hawaiian music. I learned that Kiana Davenport has just as much gumption as her writing and so much more.
A seat in the Authors Pavilion is the perfect perch, even though it's off to the side and away from the center of activity. It's quiet, less crowded and a short distance to both the air conditioned Mission Memorial Auditorium and the cleaner bathroom facilities of Honolulu Hale. And just around the corner are the food and beverage tents. So if you're looking for a nice place to settle in while you're at the Festival, consider the Author's Pavilion.
Check out this years schedule of events for a list of awesome authors speaking at the pavilion this weekend. Authors like: Sue Cowing, Kate Elliott, Lee Tonouchi, Maxine Hong Kingston, Frances Kakugawa, Jerry Burris and Victoria Nalani Kneubuhl… just to name a few. All of them are worth camping out for.