It's no secret that my "to-read" list is like an everlasting gobstopper on steroids. However, I must confess, that I have more than one list. There's a list of books that I "have to read". These are usually for the blog or other projects I'm working on. Then there's the books I "should read", you know, so I'll sound intelligent at cocktail parties. Then there's the books that I "want to read", and that's the longest list.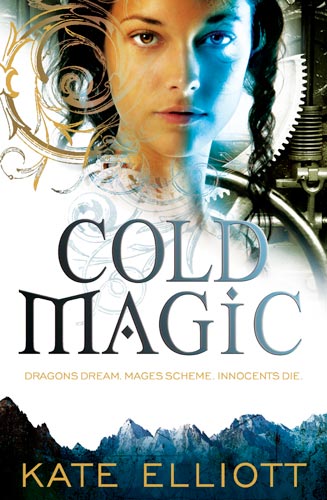 I've known about local fantasy author Kate Elliott for some time now, and I am ashamed to admit that her books have been on my "want to read" list since I started HBB. Her upcoming appearance at Celebrate Reading with her new book Cold Magic gave me the excuse I needed to skip over my "have to read"s …and I wasn't disappointed.
Cold Magic takes place in an alternate history Europe where the Roman Empire never fell; where magic and monarchy manage a political landscape that is being threatened by Industrial Revolution and scientific discovery. It centers around a young woman, Catherine Hassi Barahal, who lives with her Aunt, Uncle and cousin Beatrice. Their seemingly normal life changes when she meets a cold mage named Andevai and Cat (Catherine) learns more about her past, her family and the world she thought she knew. It's a fantasy adventure with a distinctive setting and well developed characters.
Here's what I love about this book:
For the most part the story is fast paced, and as Cat travels you can't help but flip back and forth between the story and the map at the front to see whose lands border whose, where the mages are strongest, etc.
The banter between Cat and Andevai, the bond between Cat and her cousin Bee,  and the cast of amazing characters they meet along the way. Even the minor characters shine with personality.
The world of Europa is so vivid! Elliott is an expert at not only creating a world but conveying it. There's so much detail and depth with a unique layering of politics, myth, and history. It's just an elaborate and full world written with imagination. No one wants to read flat and boring–give me robust! Elliott describes this as a mash-up, an "…Afro-Celtic post-Roman icepunk Regency fantasy with Bonus! airship, Phoenician spies, and the intelligent descendants of troodons." It's icepunk, not steampunk. (love it!)
The "extras" at the end tell us more about author and story. I liked how Elliott spoke of her love of canoe paddling and the beauty of Hawaii.
She created this world and the characters in them through discussions with her children and their friends.
It is truly an epic fantasy and while it's not the longest fiction novel I've read, sometimes it felt like it. There were parts that were a bit slow and repetitive, especially the first few chapters, but that's expected when being introduced to a new world or series (Cold Magic is the first book of Elliott's in progress Spiritwalker Trilogy). At a little over 500 pages, it's still quite a behemoth. Make sure you switch arms while carrying it, or one arm is liable to develop more muscle than the other.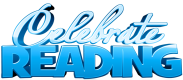 Kate Elliott will be at the Celebrate Reading Festival tomorrow to talk about her book and also lead a session on world building. Cold Magic is the perfect example of her mastery in creating worlds. DO NOT miss this chance to learn and talk about the process of creating vibrant and compelling worlds that provide a vital anchor for any successful fantasy novel.
PS… know what else I love that has nothing really to do with the book? I think it's amazing how prolific Kate Elliott is as a writer. For anyone who wants to make a career of writing novels, I highly, HIGHLY recommend reading her blog or following her on Twitter or Facebook.