Two new kids books have come out just in time for the Hawaii Book & Music Festival, so go visit the publisher's tents and check them out!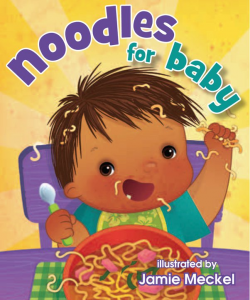 BeachHouse Publishing's latest keiki board book is the best one EVER. I'm not exaggerating when I say this because it's pretty hard to top the cuteness of Jon Murakami's geckos. Noodles for Baby is a colorful and fun book about the various kinds of noodles Hawai'i has to offer its keiki. "Long ones, curly ones, flat ones and thin, lo mein, vermicelli, soba, saimin." Pick up the book to find out what other noodles baby likes. Which one is your favorite?
This is a book you and your little one will love! And it'll be even more fun seeing and learning about the different noodles, if you eat some afterward!
My younger brother and sister are twins, and when they were babies they were like tag-team messy eaters. They especially LOVED to eat noodles and some of the illustrations in this book brought flash-backs of the devastation they would somehow create–noodles on the ceiling! Well, in Noodles for Baby there's even noodles on the cat! Illustrator Jamie Meckel did a great job with all the different noodle dishes, and you can't help but smile at the round, happy faces of all the babies even though they have noodles in their hair.
The munchkins I read this to giggled at the messy babies and enjoyed the colorful pictures. Alex drooled over all the different types of noodles and was silently impressed at how appetitzing they looked… even in illustration. 
Visit the BeachHouse tent at the Festival to check out Noodles for Baby and other adorable board books for the kids. They are also giving away friendly yellow rubber ducks to keiki visiting their table.  Get them while supplies last! As Jane says, "Books + ducks = fun!"
[gn_divider]
Did you know, mangoes didn't arrive in Hawaii until the 1820's?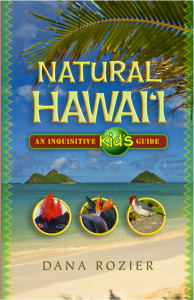 Did you know, that Hawaii is the only U.S. state that grows cacao commercially?
I didn't know these things at all, but I do now because Natural Hawaii: An Inquisitive Kid's Guide isn't just an interesting read for kids! Author Dana Rozier and Dotdot Books bring you the first in a series of guides for "inquisitive kids". Each vibrant page in this book has color photos and facinating facts about the natural elements of Hawaii. From volcanoes and erosion to the different kinds of plants, animals and insects that are found in the islands. This guide is meant to help kids, teens and their families easily recognize interesting plants and animals.
It's perfect for older kids because it's fun and engaging without being oversimplified. The book really is chock full of information and tid-bits, and Rozier does an excellent job of presenting scientific details in a way that kids will relate to and retain. Reading the book, you'll learn which part of your body grows at the same rate that the Earth's crust moves. Or which Hawaiian fruit weighs as much as a pet cat! Before you realize it you've read the whole book and have learned a whole mess of fascinating things. I wish they had more books like this when *I* was younger.
Visit the Dotdot Books tent at HBMF and learn more about Natural Hawaii: An Inquisitive Kid's Guide. They'll be giving away free activity sheets to the kids who visit their table!