Whether you're just swinging by to check out some of the great deals on books, or you're in for the long haul, HBB's got the tips to help you survive the Hawaii Book & Music Festival (HBMF) happening this weekend May 14-15th on the Frank Fasi Civic Grounds of downtown Honolulu. We'll be there, handing out our snazzy new bookmarks, wearing our 'Shaka for Books!' shirts. Come and say hi if you happen to see us! We'll be Twittering all the scoops live all weekend, so be sure to follow us @hawaiibookblog.
General Tips
Wear your junk slippers! The entire area is shaded by monkey pod trees, and those pesky pods with their sticky sap can quickly ruin your "dressy" slippers.  Also, be prepared to shake your feet free of them all day.
Bring an umbrella! Hopefully this weather clears up, but it might be a good idea to keep an umbrella in the car. The tents provide good cover but going from one pavilion to another will leave you exposed for a pretty good distance.
Pacing is important, don't visit all the publishers and literacy organization tents at once. It helps to break up your perusing by sitting in on one of the discussion pavilions. There's the OHA Pavilion, the Hawaii Council for Humanities always has some great panels, and of course the Author Pavilion.  And if you're just flat out tired, and want to sit down and listen to music, there are always a hundred or so chairs on the lawn in front of the main stage.
Slush Puppie! Our absolute favorite refreshment at the Festival—especially on those hot, sunny days—is the slush puppie icee drink, usually found in the middle of the Keiki Zone.  It's basically a slush float and runs a little expensive, but when it's hot out, it is absolute heaven.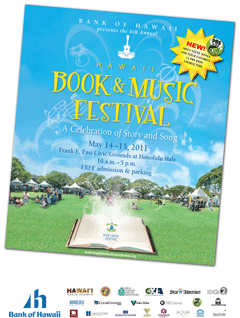 Good Steals and Deals
Aside from geeking-out with authors and celebrating books in general, one of the best reasons to come to the Hawaii Book & Music Festival is for the deals and activities!  While you won't walk away with boxes of bargains, chances are the surf-history book or keiki picture book you've had your eye on will be discounted a few dollars. Most of the large local publishers will be there, check out these links before you go for even MORE savings:
BAMO – One of the first things you might want to do is visit the BAMO tent and become a member.  For $20 you're helping support the HBMF and will receive:

Four 10% off coupons, good at any participating booth at the festival. (Even though it's on the site and handout, they are not doing this, this year)
A 1 year subscription to HONOLULU magazine (very cool)
A specially designed HBMF Book Bag, perfect for carrying all the books you'll buy!
A voucher for one free book at the Bank of Hawaii Book Swap

Bess Press – Visit their tent and if you purchase something you can receive a free item in addition to sales of up to 50-70% off their thirty year catalog of books!
Watermark Publishing is offering this coupon for use at the HBMF.  Get $10 off a $25+ purchase!  What a steal!  Don't forget to print and bring the coupon to the tent!  All of their books are 20-75% off!  You can also get a very special The Blue Tomato tote bag for $5 with the purchase of a book, FREE with the purchase of 4+ books!!
BeachHouse Publishing make excellent keiki books and they will once again be giving away

friendly yellow rubber ducks

to kids visiting their table.  Get them while supplies last!
Bishop Museum Press will be hosting fun activities for the keiki.  Janice Crowl, author of new book Kili and the Singing Tree Snail will be reading at 10:30am and also doing a FREE fun activity!  Kids can make a Kili and the Singing Tree Snail visor they can wear around the festival to keep their eyes shaded.
Bamboo Ridge Press always has fun activities for people of all ages, the most popular being the Poetry Word Bag, where you pull random words from a bag and create your own poem!

They will also debut their latest issue, Bamboo Ridge #98 [see our review] with a special reading from contributors on Saturday, May 14 at 1:00 p.m.  Listen to these great literary works, buy the book and get it signed!  Cannot lose!

Dot Dot Books will exhibit Natural Hawaii: An Inquisitive Kid's Guide at the Festival. Stop by their booth to say hello! They'll have copies of the book to read and will be giving away free activity and coloring pages.
Friends of the Library will also be hosting a book sale in their tent.  Yes, the books are gently used, but you truly can't beat the awesome deals.  You never know what kind of hidden gem you might find!
Swap 'Em!
Don't forget, one of the central parts of the festival each year is the Bank of Hawaii Book Swap.  Clear off those shelves and bring in a few books you've already read so you can swap them for others… just in time for summer reading!
Other Things To Look Out For:

The Barnes & Noble Tent is THE place to go if you're into book signings.  This is your chance to meet and talk with your favorite authors.  If this is your thing, they usually post a schedule out front. Check it out and plan your day around it! We'll try our best to keep you updated on who's there.
Oiwi Journal which is a Native Hawaiian journal of literature will be having a panel/reading on Saturday, May 14 from 11:00 a.m. to 11:30 a.m. at the ALANA tent.  Alohalani Brown, Ilima Stern, Maile Sing, Keahi lee, No`u Revilla and more will be there.  If you haven't heard these guys read, then you're missing out!
This is just a fraction of all the awesome fun things you can do at the Hawaii Book & Music Festival.  I strongly advise you to check out the schedule and have a loose plan for the things you most want to see. Please be sure to support our local authors and publishers, and most of all have fun!