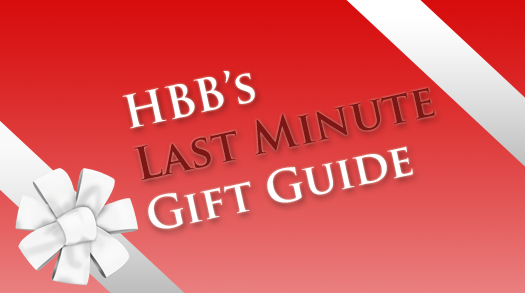 Well, the weather outside is frightful… and the crowds aren't so delighful. When you're shopping at the last minute, you have to optimize your store time and go to the places that will provide the most gift giving options. The thing about last minute gifts, is that they depend on whatever is in stock. With that in mind, if you find yourself at your nearest bookstore, here are some of our gift suggestions for the unique people in your life. We picked a few of our favorites from the last couple of years so you'll be sure to find them on the shelves.
For the storyteller, myth enthusiast, or friend who loves scary stories: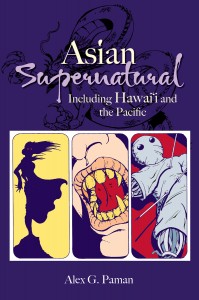 Asian Supernatural by Alex Paman
This collection of legends took years to compile and encompasses most of the Pacific and its cultures.  This is a great book for those who like ghost stories and myths, a kind of supernatural compendium of creepy creatures that reflects the way people in the Pacific perceive the unexplained.  Read our review here: [Book Review: Asian Supernatural]
For the home chef or foodie in your life: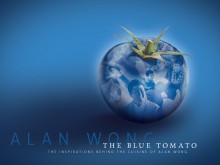 The Blue Tomato by Alan Wong (with Arnold Hiura)
Chef Alan Wong is a premier cook in Hawaii, and The Blue Tomato summarizes his philosophy of Why Not? Just like the cover, Wong pushes the idea of cooking beyond the limits of convention.  It's a beautifully designed and produced cookbook, perfect for the experimental chef in your family.  Read our review here: [Cookbook Countdown Week 5]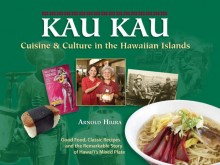 Kau Kau by Arnold Hiura
Arnold Hiura has compiled generations of work into this illustrious guide to the culture of food in Hawaii.  Bringing together the history of the Islands and the multicultural tastes that brought everyone together, Kau Kau is a great gift for any local who grew up grinding on Saloon Pilots and SPAM.  Read our review here: [Arnold Hiura's "Kau Kau" is onolicious reading]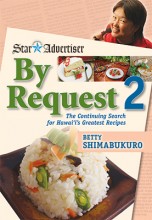 By Request 2 – Betty Shimabukuro
The previous two cookbooks are really high-end cookbooks, very lofty in their goals but executed to perfection.  Sometimes, you just want to get some really good recipes in a handy-to-use manual—and By Request 2 more than fits the bill.  Full of recipes compiled in Shimabukuro's classic Star-Bulletin…-Advertiser column, this cookbook has something for every taste-bud.  Read our review here: [Cookbook Countdown to New Year's]
For the family photographer or your artsy-farsty friend: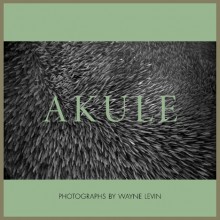 AKULE by Wayne Levin
Photographer and world traveller, Wayne Levin, focuses his aperture underneath the ocean capturing in stark black-and-white, the natural beauty of clusters of akule off the Big Island's Kona coast.  You can find out more about AKULE, along with samples from the book, on the official Bess Press website.
For the local history buff who knows everything: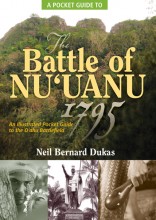 The Battle of Nu`uanu 1795 by Neil Bernard Dukas
Most everyone who lives in Hawaii has heard of the story of Kamehameha's final surge against Kalanikupule on the cliffs of the Pali, captured so perfectly in Herb Kawainui Kane's famous painting.  But that was just the last stand of a momentous battle for O`ahu, which Neil Bernard Dukas analyzes succinctly in this pocket guide to The Battle of Nu`uanu 1795.  Small enough to take with you on excursions across East O`ahu, the book even has maps on places you can go to see the movement of troops and where skirmishes took place.  Visit http://www.battleofnuuanu.net/ for more info.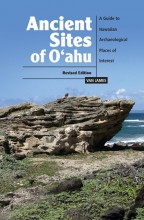 Ancient Sites of Oahu by Van James
You may recognize this classic guide to Hawaii's most sacred grounds, but this version is a completely revised and remade update with full-color photography, expanded descriptions and more sites.  Thanks to Bishop Museum Press, Van James takes you across the Hawaiian Islands detailing the geography, history and legends behind each important place.  Great for those history lovers who fancy themselves as Indiana Jones, learning about the past by getting dirty in the field.  Visit bishopmuseum.org for more information.
For your socially conscious friend or family member: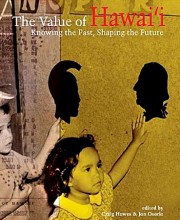 The Value of Hawaii edited by Craig Howed and Jon Osorio
No other book this year has generated as much heated discussion about the issues than this new book from UH Press.  The Value of Hawaii compiles a number of essays on subjects ranging from education to government, homelessness and Hawaiian issues.  For more information about this important contribution, check out thevalueofhawaii.com.
For that down-and-out friend who needs a little inspiration: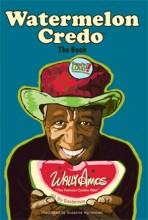 Watermelon Credo by Wally Amos
Each letter in the word "Watermelon" is a chapter, providing Wally Amos' unique style of inspirational advice.  The concepts are simple and easy to understand and are brought to life under the vibrant, positive voice of Famous Amos, himself.  While other "self-help" books often seem very mechanical or overly preachy, Watermelon Credo takes the same goal as these pretenders and dresses it up in a fun and jovial manner.  Find out more about Wally's credo at wallyamos.com.
For your Music-Listening Buddy: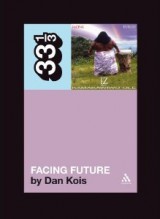 Facing Future by Dan Kois
Music fans may already be aware of the 33 1/3 series of books, discussing some of the most intriguing albums in music.  Dan Kois turns his attention to the Hawaiian Islands and spotlights our local musical hero, Israel Kamakawiwo'ole and his landmark album, "Facing Future."  Great gift idea for any lover of music, whether they know IZ or not.  Read our review here: [Book Review: Facing Future]
For the Literary Surfer and/or Ocean Lover: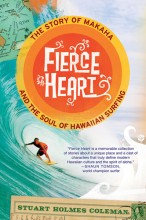 Fierce Heart by Stuart Holmes Coleman
Now available in paperback, Fierce Heart is Coleman's love letter to Makaha.  The book covers the lives of the people that put Makaha on the map, including pioneering surfer Buffalo Keaulana and his sons Brian and Rusty; Eddie Aikau; Rell Sunn and Israel Kamakawiwo'ole.  Read our review here: [Book Review: Fierce Heart]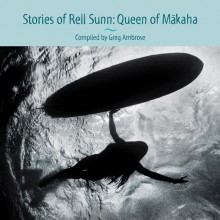 Stories of Rell Sunn compiled by Greg Ambrose
This 2010 book from Bess Press is not a bland biography of one of the most heroic figures in modern Hawaiian history, but parallels our very own "talk story" style of telling stories, bringing together tales from Rell Sunn's closest friends and colleagues.  Archival photographs of Rell bring the book together—a special treat for those who knew her and those who can be inspired by her life.  Read our review here: [Book Review: Stories of Rell Sunn]
For your fiction-loving friends and family: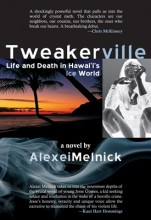 Tweakerville by Alexei Melnick
No other work of fiction this year takes the idea of Hawaii in a direction the way Tweakerville drags you through the burnt pipes and hollowed eyes of drug-addicted neighborhoods.  A dazzling debut from author Alexei Melnick, if you like your novels harsh, realistic, and layered with metaphor, this is a gift worth giving.  Read our review here: [Book Review: Tweakerville]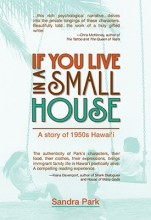 If You Live In A Small House by Sandra Park
A great book about living in a multi-generational home with characters that are easy to relate to.  The language is so fluid and rich with imagery that you can almost feel everyone's frustrations and disappointments.  This book is very interesting and relevant to our everyday lives.  Great for people who want to reminisce about an older Hawaii or want to transport themselves into that time period.  Read our review here:  [Book Review: If You Live In A Small House]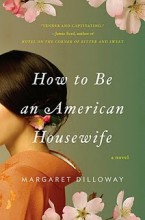 How To Be An American Housewife by Margaret Dilloway
One novel brought a lot of buzz around the book blogging community, and that was this debut effort from Margaret Dilloway.  A well written saga of one woman's struggle to make a better life for herself and the people she loves.  It's about family secrets, the challenges of communication and finding forgiveness.  This book would make a great gift for your mother or any important woman in your life.  Read our review here: [Book Review: How To Be An American Housewife]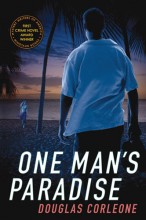 One Man's Paradise by Douglas Corleone
A crime mystery set in Honolulu with a brilliant leading man –defense lawyer, playing detective, Kevin Corvelli. This book has it all: murder, sex, the mob, quirky characters and an exotic locale. It's a great ride and a lot of fun. It's perfect for anyone who likes a good story and an interesting hero.  Check out our book review here: [Book Review: One Man's Paradise by Douglas Corleone]
For the fiction lover with a short-attention span: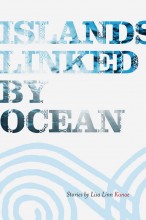 Islands Linked By Ocean by Lisa Linn Kanae
These short stories by award winning author Lisa Linn Kanae will make you laugh and cry. It's a very entertaining collection of memorable characters that captures the unique perspectives of local life. These unforgettable stories will have you saying, "I have to tell you about this story I read…" to everyone you know.  Find out more about this book at bambooridge.com
Need something for the kids? Check out our post HERE from last year highlighting our favorite holiday keiki books!
Also, just FYI, if you have alternative lifestyle friends and family members, you might want to check out local author Paul G. Bens' ebook Talk Story: Three Tales of Hawai'i, a Christmastime erotic journey through the streets of
Waikiki. http://www.smashwords.com/books/view/13032.
That's it, hopefully we've covered at least a few people on your list. Happy shopping!