What I do is minimum effort, but maximum pleasure.  That's part of being Hawaiian, brah.  —Israel Kamakawiwo'ole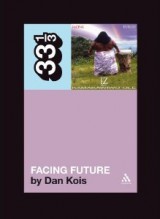 If you're reading this, you're either from Hawaii and know Israel Kamakawiwo'ole or you've heard the film/TV/wedding rehearsal staple "Somewhere Over the Rainbow/What A Wonderful World."  (And if you've heard neither—get down to the bottom of this review, pronto!)  As such, you may find the story of both to be fascinating and it is this tale about the man affectionately (or commercially, rather) known as IZ that is characterized in Facing Future (Continuum, 2010), a new book by Dan Kois about Israel Kamakawiwo'ole's most famous album.  Facing Future is the 70th book in the 33 1/3 series—pocket-sized books detailing the music and people behind some of the greatest, most influential, and critically acclaimed albums of all time.  In this, Dan Kois discusses Israel Kamakawiwo'ole's masterpiece, making a point that it is not the most consistent album, but through its messenger and style it truly represents the many perceptions and facets of Hawaii.
Of course, tackling the story of one of Hawaii's most beloved figures is always somewhat of a precarious position for a haole from the mainland.  Kois has no apprehensions about his perspective—playing up the fact that he is an outsider analyzing the impact of IZ both locally and abroad.  By immediately brandishing himself as such, he exerts a certain freedom to more aptly criticize Israel and his music in a way that people from Hawai'i may avoid, in fear of getting their "local card" revoked.  Despite the warnings, I naturally had some hesitancy towards his portrayal of Bruddah Iz, Hawaiian music and culture.  Kois, however, proves that he did his research and put in time learning about the nuances of Hawaii's music and way of life.  He easily drops local lingo into his narrative without coming off as "tryin'" too much, gleaned a lot of insider knowledge of the Hawaiian music industry and even provides sympathetic commentary to sensitive topics such as  Hawaiian sovereignty and how it connects with both Israel's music and the resentment about it being over-licensed for mass consumption.
The book follows a simple format, dividing up into three proper sections.  The first two are primarily the story behind the man, a typical "Behind the Music" type of expose.  It goes from his childhood playing music with Gabby Pahinui, to his time with the Makaha Sons of Ni'ihau, and exorcising his own personal demons to lay the foundation for the creation of his triumphant return to music.  The story of Israel is fascinating on its own and Kois does a great job of capturing it through discussions with his family, local DJs, legendary Hawaiian musicians, and the man behind the magic—the controversial producer Jon de Mello.
A refreshing break in the narrative commences with a track-by-track breakdown of the album itself.  This is a wonderful section to peruse at will, especially while listening to the songs as it provides good analysis and details the stories behind the creation and inclusion of each song.  Even the Hawaiian songs get the royal treatment, with English translations and a brief history of the creation and use of each song in Hawaiian musical tradition.  I do feel the strength of the book lies in Dan Kois' constant analysis of the dueling contrasts between Hawaii's and the world's perceptions of Israel Kamakawiwo'ole and his music.  This is exemplified in the comparison of two standout tracks:  Hawaii's beloved "Hawaii '78" and the mainland success "Over the Rainbow."  The last third of the book reflects on these topics and more, trying to define its success in both Hawaii and the mainland and what these songs, the album and the man himself mean to each of these different geographic and cultural audiences.
There wasn't much I disliked, aside from some mauka/makai overuse and a subtle disdain of Hawaiian-style reggae music.  As it is, this is a book I would recommend for both the local and outsider alike.  Anyone who has only been touched by the sweet melody of IZ's "Over the Rainbow" are doing themselves a great disservice by not sampling the rest of his catalogue (you can listen to Facing Future here one time for free—then buy it if you like it).  Kois' book serves as a great companion piece with Facing Future for any music-lover; and an important part of any collection for admirers of Israel Kamakawiwo'ole.  The album is epic, like the man, and as Bruddah Iz would sing, "you'll never find another Hawaiian like me."*
Facing Future
by Dan Kois
Continuum Publishing Group, 2010
168 pages
*dis song on one 'nodda album
Disclaimer: I received a free copy of Facing Future provided by Dan Kois for review purposes. Dan Kois or any related affiliates had no input in the content of this review.