Almost a year ago Alex and I stumbled into Haili's on Kapahulu to buy a combo laulau plate and a new book from Watermark Publishing. Kau Kau: Cuisine & Culture in the Hawaiian Islands had just been released and author Arnold Hiura was signing copies in the restaurant. Over the course of the year Kau Kau has gained a lot of fans and awards including a Ka Palapala Po'okela Award for excellence in the cookbook category. Arnold is active year round, appearing at food events and socializing with fans on Facebook.
As it turns out, there's a fun event happening this Saturday, November 6th at Hawaii's Plantation Village in Waipahu. "Broke-da-mouth: 'Kau Kau,'" a talk-story and food tasting from 10-12pm is a free event you shouldn't miss. The Village is a walk-thru museum of what plantation life was like in Hawaii and it's a great experience for the entire family. In preparation for this event, Alex and I decided to post a review of the book (finally, but better late than never).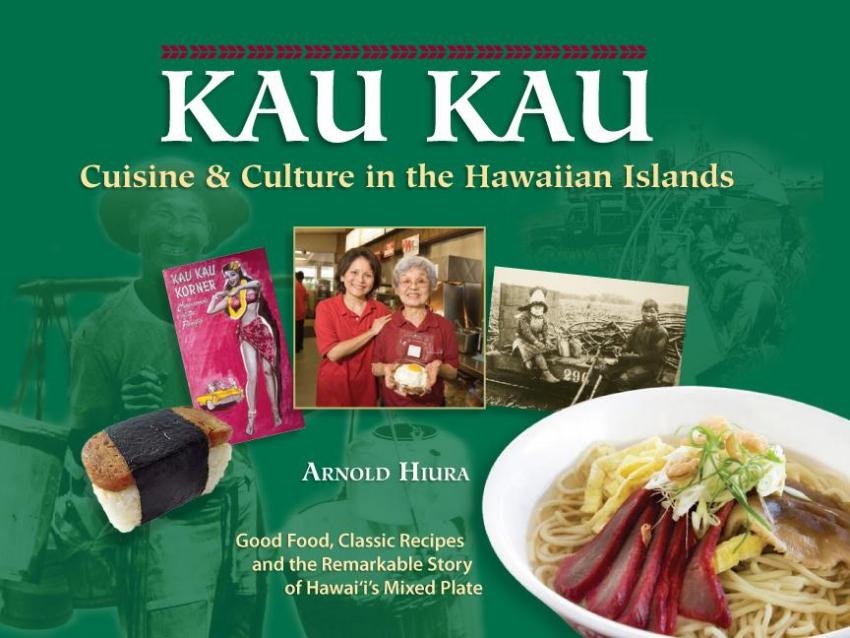 Kau Kau is all about one of Hawaii's favorite pastimes… eating! We sure do love our food here in the islands and our unique history and blend of cultures has resulted in many original dishes. It's the depth of this history that is really surprising. This book is packed full of great stuff, I barely know where to start! There are a variety of recipes from missionary desserts and plantation comfort food to modern local cuisine, plus history on how various crops and ingredients came to Hawaii. There's also info and profiles on famous local chefs, restaurateurs, farmers, bakers and other food contributors.  But what I found most entertaining was the breakdown and mixology of the "plate lunch". Hiura finds answers to such questions as "how and when did two scoops of rice become the standard?"…maybe useless trivia for some, but I found it incredibly interesting!
This book is a bit dangerous, not only because it makes you hungry, but it also makes you nostalgic. I took the book home to show my dad (and fellow foodie) and he was most affected by the color scans of old restaurant menus. He was like a giddy little boy seeing those familiar icons from his youth with flashbacks of buying sushi for a dime. Reading this book made him feel both happy and sad. Sad because it's so obvious how much local food has evolved and while I can't lament the loss of old favorites like Coco's and The Jolly Roger as much as he can, I too remember the hollow loss I felt when Kelly's Restaurant had to close its doors in 1998 and the current dwindling presence of Flamingo Restaurants. There are too few of these places left. Kau Kau does well in honoring them and the book makes you feel happy because Hiura shows how some families continue to run these old businesses and even make them better–that even though things change our local food traditions survive.
Hiura has done a masterful job of researching and gathering information for this book (there's a "chee-wiz, wow laulau, supah long" bibliography at the end). It's truly a labor of love and his hard work is apparent. Old photos, new photos, recipes and tidbits, there's something interesting on every page. The book is filled to the brim with pictures, it's practically bursting, like your plate lunch when aunty gives you an extra scoop mac salad. That's really what Hiura does in this book, he gives you the history of our unique local cuisine plus plenny extras, triple scoop everything! That is why Kau Kau is winnahs! I highly recommend it for anyone, especially relatives who live away from the islands.
As a side note, I found it hard to critically review this book because I was so distracted and enamoured with the subject matter. Really, who doesn't LOVE a book about food? I'm sure it's obvious by now that Alex and I like to eat and we certainly appreciate the interesting flavors here at home, often going on food adventures. What are your food adventures? What do you remember most about Hawaii's yummy past?
*Click here for another recent review by the SF Gate, they even have a slide show with pictures from the book!