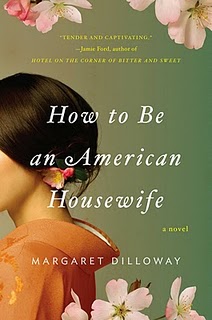 One thing Americans and Japanese have in common is their can–do spirit. In America, you will find your hard work rewarded as it is in Japan. How fitting that America should have been the only one who could defeat Japan. —from the fictional book 'How to be an American Housewife' mentioned in the novel
Summary:
Shoko is nihon-jin growing up in the middle of World War II. The first part of the book is from her point of view as we bounce back and forth between her past and present. As a child and young woman she struggles with creating for herself a better future, and then later struggles with the various wounds of a painful past. The second part of the book is from the view point of Shoko's daughter Sue. We follow in Sue's quest to help her ailing mother mend the rift of her estranged family and settle the affairs that have long burdened her. In seeking redemption for her mother, Sue finds herself and so much more.
Review:
When critics say a book has a successful balance of depth and contrast, they're probably talking about How to Be an American Housewife by Margaret Dilloway. This debut novel conveys complex themes and emotions with such surprising finesse that you can easily find yourself caught up in the thoughts of the characters and effortlessly engaging in the story.
What stands out most about this book is the opposition of things—cultures, genders, families, generations. Each chapter starts with a quote from a book (given to Shoko) on how to be a successful American housewife. The book compares Western life to Japanese life and encourages the Japanese wife to adapt to American ways. By showing the different family traditions, relationships and expectations of Shoko with her childhood family and then later as an American with her husband and children, you really feel the weight of her decision to leave Japan. Shoko walks the line between her worlds, stuck in the middle trying to maintain aspects of her Japanese heritage while being the typical American wife and mother she feels pressured to be. Shoko, both gentle and harsh; Sue both strong and insecure; Charlie both loving and ignorant, the characters are all well developed and Dilloway shows you their dispositions in such elegant and creative ways. She makes writing look too easy.
The story has depth because it has several plot lines, past, future and present. You're constantly wondering how the past is going to change the future, what's going to happen to Mike, what about Helena, the granddaughter? Will everyone finally make peace? Wondering what will happen when everyone can communicate as they should, compels you to read on and endears the characters to you so that long after you've put the book down you're still thinking about these people as if they were neighbors or members of your own family.  At least, that's how I felt about it. I think being from Hawaii and having friends and loved ones who are first generation Japanese immigrants, who HAVE lived through the war, it's easier to pull the characters out of the book and suspend your disbelief.
A successful writer can make you run the gamut of emotions and Dilloway delivers. Shoko and her antics both as a young girl and stubborn old woman made me laugh. Sue with her doubts and excuses made me frustrated and the way that everyone needlessly kept themselves at a distance from each other, their own family members, made me cry. But amidst it all there was still family and hope. Hope for forgiveness and happiness and love. I highly recommend this book. It's perfect for book clubs since there's a lot to talk about and Dilloway even offers some questions to ponder on her blog, as well as screenshots of the actual book that inspired the fictional one in the novel.
The world needs more thoughtful authors like Dilloway who can make us think about the past and our identities, our families and our communities, and question what defines us—an author who can successfully challenge our minds to consider things like poverty, war and prejudice while entertaining us with a good story and likeable characters. There's no question about it, Dilloway writes with tremendous grace. Check out her blog for more info on the book and hilarious posts about her writing adventures, raising a family and living in Hawaii.
We're lucky to have Margaret as a local author and she's agreed to do an author interview later this week, and hopefully a guest post some time in the future. She's also doing some book signings (next one is Aug. 5th) so check out our calendar and look out for details in the Bookend posts.
*A copy of How to Be an American Housewife (ISBN: 9780399156373) was provided to HBB by the author and publisher, Putnam Adult, in exchange for a fair and honest review. Book Publication Date: August 5, 2010