Canoe surfing, bullyboards banging everybody around
Braddah Mel, Braddah Russ, Sistah Rell, Uncle Buff
Everybody ripping, shredding, jamming on down to Makaha
—Ka'au Crater Boys "Makaha"
Recently, Misty and I travelled down to Makaha with her family to enjoy a peaceful day at the beach.  It's a truly wondrous drive along a beautiful stretch of coast, one that contrasts sharply with the image that is often echoed about this side of Oahu:  lower socioeconomic neighborhood, homeless encampments on the beach, dangerous driving roads, rampant drug abuse, and a territorial animosity against outsiders—specifically haole.  But the Westside is so much more than that as many others will cite the great surf, rich music, friendy fun-loving locals, and the strong sense of Hawaiian community and culture.  It is these positive aspects that are richly detailed in Stuart H. Coleman's literary non-fiction tale, Fierce Heart:  The Story of Makaha and the Soul of Hawaiian Surfing.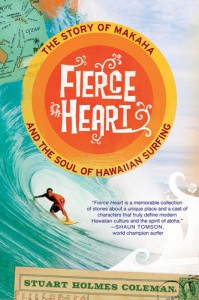 Primarily told through his interaction with notable Makaha personalities and their friends and family, Coleman makes it a point to break through the divisive peaks of the Waianae Range to get to the truth of the Westside of O'ahu.  Coleman does not shy away from stories of the violence and anti-haole sentiment that clings to the image of this region, but this is primarily a book of reverence—reverence for Makaha's Hawaiian heritage, surfing culture, and legendary inhabitants. Reverence for ohana, the ocean, the land and life.
Done in an anecdotal style stemming from the numerous interviews Coleman conducted with locals and visitors, Fierce Heart is one great tale after another about the lively people who helped put Makaha on the map.  Coleman's narrative ebbs and flows like the rhythm of the ocean, guided by the stories of some of Hawaii's greatest watermen. Through the hospitality of the Keaulana clan and Rell Sunn, many legendary surfers from all over the world made their way to Makaha and created a name for themselves.  Even famous actors from the mainland such as James Arness (Gunsmoke) were welcomed with open arms because they were respectful of the culture.
The beginning of the book focuses on the life of Buffalo Keaulana who helped establish surfing contests on the West Side.  From this flows many other great stories such as how his son Brian Keaulana became involved with the ocean and completely revolutionized the lifeguarding industry through his implementation of jet skis.  Rusty Keaulana, Buffalo's other son, became a three-time world champion surfer while living up to his kolohe reputation.  Rell Sunn, an inspiration to many, also shines through as she helps make surfing accessible to women and children—a true Queen of Makaha.  Even the story of Makaha Son Israel Kamakawiwo'ole is featured in the book in such a way that it is related to Buffalo, Rell and the rest.  You can tell in Coleman's writing how much he admires these local icons along with Eddie Aikau who is mentioned in this book in a few chapters on the Hokulea.  (As a side note, you should also check out Stuart Coleman's book "Eddie Would Go" for more info about the life of Eddie Aikau.)
Fierce Heart is highly recommended for anyone even remotely into surfing—Makaha is one of the classic surfing spots in the world.  But it's not just about that, it's a take on a distinctive modern Hawaiian culture forged in the remote shores of West O'ahu.  Readers who want to catch a glimpse of its recent history, as seen through the accomplishments of its most inspiring citizens will find this a pleasurable read.  It's a collection of "talk story" tales and first-person accounts, expertly weaved together in an easy-to-read novella format by Stuart Coleman.  He truly received a treasure when he was blessed with the story of Eddie Aikau and the legends of Makaha, and has done a fantastic job honoring their legacy through these books.
The paperback edition of Fierce Heart was recently released in July 2010 and is available at most book stores across the country.  On a related note Buffalo, Rell, Eddie and a number of other watermen (many of which are also mentioned in the book) will be inducted into the new Hawaii Watermen Hall of Fame.  The official induction ceremony will be held at the Outrigger Canoe Club on August 24th, the 120th anniversary of Duke Kahanamoku's birth.  Check out the Hawaii News Now story here.
To learn more about Stuart Coleman, Fierce Heart and more check out our author interview with him here.
Fierce Heart
By Stuart Holmes Coleman
St. Martin's Press, 2009
320 pages
Disclaimer: I received a complimentary copy of Fierce Heart from the author in exchange for my honest review.