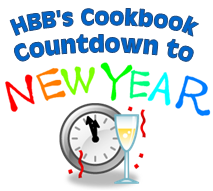 The thing about the holidays, or the entire months of November and December, is that the house is perpetually filled with yummy smells. Family gatherings and food are so much a part of the season, one undoubtedly finds oneself being lenient with their calorie restrictions and promising to work double hard in the new year. Parties and potlucks, home baked presents for friends and coworkers, it's impossible to weather the yule without the aid of some kind of recipe. And so each week thru New Year's Day, HBB will feature a different local cookbook and recipe, just for your holiday eating pleasure.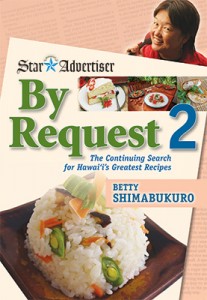 By Request 2: The Continuing Search for Hawai'i's Greatest Recipes by Betty Shimabukuro
This fall, recipe queen Betty Shimabukuro and Mutual Publishing released the second installment of recipe compilations from the popular "By Request" column of the Honolulu Star-Advertiser (nee Bulletin). If you're not familiar with the "By Request" section then you've really been missing out as it's been a staple of the paper for years and a source of 'ono local recipes found nowhere else.
The hobby of collecting recipes really fascinates me. I can't tell you how frustrated I was when, as a clumsy kid, I knocked over my mother's recipe tin spilling hundreds of cards out onto the floor. She made me put them back… in order. I hated it and couldn't conceive as to why anyone would bother to keep them. Fast forward a few years and I'm bemoaning how I didn't take better care of those recipes that are now gone forever, some of them irreplaceable.
But that's what's great about the "By Request" books and Betty Shimabukuro…it's a collection of recipes that readers have requested or have been looking for—recipes that people wonder about as they dine out with friends and family. Betty will scour the Earth and the Internet, or track down and interview chefs just to answer these requests. This sequel book has 110 recipes from restaurants like Kaka'ako Kitchen and Mariposa, recipes from people like Hari Kojima and Sam Choy, some old favorites from the Star-Bulletin and much more. It has great recipes in all categories including a whole section of recipes that Betty makes consistently as favorites in her own home. And even though there aren't pictures for all the recipes (I love pictures in my cookbooks) Betty writes a little bit about each recipe or includes the copy from the column plus the date that it was published in the paper. This really adds to the experience of making the recipes and gives you a sense of how timeless some foods really are.
On a technical note, I like the size of this book and the spiral bound glossy pages typical of Mutual's cookbooks… perfectly utilitarian and kitchen friendly. For this week's recipe I decided to start with dessert! Why not?! I thought this was one of the most interesting dessert recipes in the book…or any cookbook for that matter.
MINIATURE TARO CHEESECAKE (makes about 45 cheesecakes)

1 pound cream cheese, at room temperature
1 cup sugar
1 teaspoon vanilla extract
1 cup poi
2 eggs, at room temperature

>>Crust:

2 cups graham cracker or shortbread cookie crumbs
1/4 cup sugar
1/2 cup melted unsalted butter

Preheat oven to 300 degrees. Lightly grease 4 mini-muffin pans.

To Make Crust: Combine all ingredients. Press dough into bottoms of cups in muffin pans.

Beat cream cheese, sugar and vanilla on low speed until smooth. Scrape sides of bowl and beaters; beat some more. Add taro and beat until smooth, scraping again. Add eggs one at a time, blending the first in completely before adding the next. Fill muffin cups 3/4 with batter. Bake 35 minutes.

Cool to room temperature, then refrigerate overnight before unmolding.
Mmm… doesn't that just sound yummeh? There's lots more easy to follow recipes in the book. Just FYI, Mutual Publishing is having a special offer on the book now over at their website.