[gn_quote]"She's one of the most extraordinary people to come out of Hawaiʻi.  She was one of the first female professional surfers and the first female lifeguard in Hawaiʻi, a real trailblazer and just an extraordinary human being like Eddie Aikau.  I think kids today need to learn more about their own culture and local heroes."
"Rell used to tell all her kids and the community… Mālama i ke kai, take care of the ocean, and she used to tell them we have to take care of the ocean because the ocean takes care of us."
–Stuart Holmes Coleman, author Fierce Heart and Eddie Would Go
from Author Interview: Stuart Holmes Coleman[/gn_quote]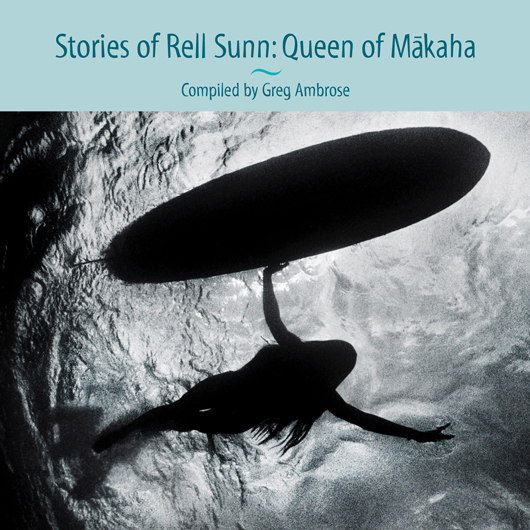 Rell Sunn is a true local legend here in Hawaiʻi.  She grew up living the Hawaiian life—diving for limu and 'opihi, fishing with moi nets, surfing, hula—she fostered that deep relationship with the ocean like so many of her ancestors.  She was a true Renaissance woman:  the first female lifeguard on the west side of Oʻahu, hula dancer, radio DJ, single mother, UH graduate in cultural anthropology, mentor to children and various others roles.1 More than anything, she was a leader, an inspiration to a countless number of people that she touched with her grace, wisdom, charm and determination in living life.
From my own research, there doesn't seem to be enough written about this heroic Hawaiian figure.  There are films such as Heart of the Sea, numerous articles from magazines and newspapers, entries in various surfing books, and a well-received play by the Honolulu Theatre for Youth.  Rell Sunn has even co-authored a book A Guide to Beach Survival and two coloring books.  Yet, for such an inspiring local figure, I feel like there should be much more written about her.  That's why it's nice to see Bess Press and Greg Ambrose bring us this well-produced tribute to the Queen of Mākaha.
Stories of Rell Sunn: Queen of Mākaha is a very beautifully put-together compilation of stories from the people who knew her best in life—fellow surfers, childhood friends, classmates, family, colleagues and people from all walks of life.  Each entry is written in the contributor's personal style, truly giving this book a rainbow of different voices, all touched by the aloha they received from Rell Sunn.
Compiler Greg Ambrose, who provides the introduction as well as his own stories, organizes the entries in this book by the many roles that Rell Sunn has played in the lives of others.  Stories are split into headers such as The World's Waterwoman, Rell's ʻOhana, Mentor & Guide, and Ambassador of Strength & Spirit.  The writings range from funny stories highlighting Rell's easy-going personality, to adventurous tales showing how she was a natural leader and teacher, to somber memories of reminding us of how she bravely fought cancer for 15 years, yet rarely let it interfere with her living her life to the fullest.
While some entries are naturally better written or more interesting than others, they all have a place in showing the many positive attributes that Rell Sunn shared with the world.  Most of the stories are short, making this an easy book to browse around; the pages are high-quality, the design beautiful in its simplicity, and the pages littered with excellent photographs of Rell and the people in her life (just look at that gorgeous cover).  Both people who have never heard of Rell Sunn before and those who have known her all their life will be able to take something meaningful out of this book.
While you won't find a detailed biography on the life of Rell Sunn here, or anything put together in a chronological manner, what you will find in this book is a vibrant picture of who Rell Sunn was, painted by many of the people who meant the most to her.  Reading these stories, you really get a sense this compilation best represents the true soul of who Rell was—a person of fierce determination who not only lived up to her potential in life, but pushed and inspired everyone around her to do the same.  She is truly one of the most prolific figures ever to come out of Hawaii, and Stories of Rell Sunn does her legacy justice because it displays how Rell touched so many people in her life and the inspirational example she set for everyone, especially the youth in Hawaiʻi.
As a side note, you may be hearing more about Rell Sunn in the coming year.  Scheduled for release in 2011 is a biopic based on Rell's life that is co-written, produced by and starring noted Hawaiʻi-born actress and singer Tia Carrere.  The film will be directed by Martha Coolidge (The Prince and Me, Real Genius) and could help spread the message of Rell Sunn's life to more and more people outside of Hawaiʻi and the surfing world.
Events
If you are reading this in time, you are in luck!  There will be a book signing for Stories of Rell Sunn this Saturday, November 27, 12pm at Borders in Ward Centre.  Greg Ambrose, the man who compiled the book will be on hand to sign copies.
Also going on this weekend is the surfing contest that Rell Sunn started, the Rell Sunn Menehune Surf Contest, going on at Mākaha Beach until Sunday, November 28.  After the contest is over, the Rell Sunn Aloha Jam II will commence on Sunday from 6:00 p.m. to 11:00 p.m. in Waimea Valley.  For more information about these two events check out the events page at  rellsunn.com.
Stories of Rell Sunn: Queen of Mākaha
Compiled by Greg Ambrose
Bess Press, 2010
164 pages, softcover
ISBN: 978-1-57306-3234
Disclaimer: We received a complimentary copy of this book from the publisher in exchange for our honest review.

Footnotes:
1 Warshaw, Matt.  The Encylopedia of Surfing. p. 569