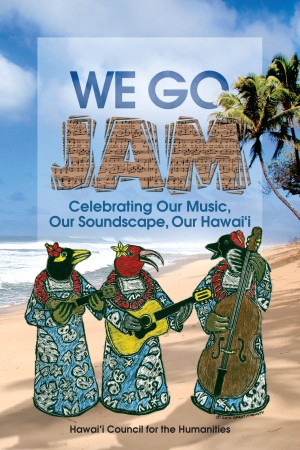 During last year's Hawaiʻi Book and Music Festival (HBAMF), I had the pleasure to attend a number of events at the Hawaiʻi Council for the Humanities' tent, whose theme for the two-day affair was "The Aural History of Hawaiʻi." At the beginning of both days were panels relating to the Council's new book We Go Jam. Unfortunately, I missed out on the Saturday panel with Carlos Andrade, Aunty Noelani Mahoe, and Puakea Nogelmeier, but was lucky enough to catch the Sunday panel with Catherine Toth, Aaron Sala, and Aiko Yamashiro. Thanks to their insightful commentary on Hawaiʻi's musical culture, I bought the book and have since thoroughly enjoyed picking it up, randomly flipping through it, and either learning something new or reveling in the writer's fond memories.
We Go Jam: Celebrating Our Music, Our Soundscape, Our Hawaiʻi from the Hawaiʻi Council for the Humanities and edited by Susan Yim is an anthology of stories, articles, lyrics and more covering the wide and diverse musical heritage of Hawaiʻi. The book is incredibly inclusive, spanning topics from the art of Haku Mele, to articles about contemporary Hawaiian musicians, and experiences on the rise of rock n' roll in Hawaiʻi in the 1950's. There is a veritable who's who of some of the best local writers. Aside from those mentioned, the book also includes luminaries like Lee Cataluna, Lee Tonouchi, Jocelyn Fujii, Marie Hara, George Tanabe, and Cedric Yamanaka, among many others.
Some of my favorite pieces involve writers who chose to talk about specific song or songs, including its lyrics and providing a backdrop or explaining meaning. In "Our Stories of 'Manuela Boy,'" Yamashiro discusses the stories surrounding the song, deftly weaving social issues, Hawaiian history and related anecdotes amidst refrains of 'Manuela Boy.' Martha Noyes's powerful "We Will Eat Stones" describes the heated atmosphere amidst the overthrow of the Queen which influenced the writing of "Mele ʻAi Pōhaku," known modernly as "Kaulana Nā Pua." And on "People of Place," Carlos Andrade takes the reader on a journey through time and place using the words of "Na Uʻi O Kauaʻi" to put you into the mindset of a truly Hawaiian composition. There are many more gems along this vein, including pieces by Jonathan Osorio "Mele: Our Voice, Our Being," George Tanabe "Glorious Gathas: Buddhist Hymns in Hawaiʻi," and "Voices from the Canefields: Japanese Immigrant Folk Songs from Hawaiʻi's Sugar Plantations" by Franklin Odo.
We Go Jam is a fantastic collection of local writing which truly represents the great variety of culture, storytelling, influence and emotions that the role of music in Hawaiʻi provides. I hope reading it for others evokes a similar sense of time, place, and history that it did for me; and maybe even motivates you to do something musically. After reading and re-reading We Go Jam, I just might finally pick up and attempt to learn that instrument I've been procrastinating on for 10+ years now.
[gn_divider /]
For more information on the book, listen to this Thinking Out Loud radio show with members of We Go Jam talking about the book: KZOO Hawaii.
We Go Jam: Celebrating Our Music, Our Soundscape, Our Hawaiʻi
Edited by Susan Yim
Hawaii Council for the Humanities, 2012
188 pages, paperback