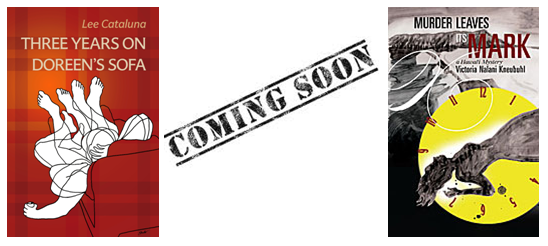 I'm so excited!! The much anticipated novel Three Years on Doreen's Sofa by Lee Cataluna is coming out on October 1st! I've been waiting for this book since the first excerpt appeared in the Spring 2007 Issue 91 of Bamboo Ridge Journal. And again when a second excerpt appeared in Issue 94. Then during the  Hawaii Book & Music Festival in 2010 when she read a portion of it at the Playwright Jam session. I was immediately taken with the story and the characters–their unique voices and the comical localisms that only Lee Cataluna can convey so well. I've been looking forward to it greatly ever since.
Recently, we went to hear Cataluna read a chapter at the last Bamboo Ridge Wine & Words (which she will be attending again on October 5th, so you should all buy tickets) and my excitement for this novel was renewed. If you EVER get a chance to hear Lee Cataluna read ANYTHING, you should go. In fact, to celebrate her new book she'll be doing quite a few events. So after you buy the book, pencil in one of her readings or playwright workshops [see HBB's calendar or Bamboo Ridge Events ].
Three Years on Doreen's Sofa is the story of a local man who means well. After a short stint in prison, sentenced for petty crime, he stays with his half-sister Doreen in an attempt to straighten out his life. But sometimes it's hard to catch a break and we follow along through one hilarious or heartbreaking situation after another in this tale of family and second-chances. Everything  I have heard and read so far on this book has got me hooked, watch out for my review later this week!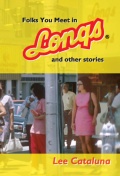 Lee Cataluna is also the author of many successfully produced plays and a collection of short stories titled Folks You Meet At Longs (Bamboo Ridge, 2005). It's one of our top picks for best in local literature. What I love most about this book is how Cataluna turns the simple act of shopping at Longs into a commentary on life in Hawaii. Everybody in the book is different but they all need something from Longs. Prescriptions, food, diapers or social interaction, Longs is the common denominator for many folks. It's practically a local institution. Cataluna has an amazing talent for capturing the quirks of people and finding beauty or humor in the most mundane everyday situations. Although all the stories are fiction, you can't help but relate to the characters. You laugh and you cry and you wonder… who am I going to run into at Longs?
One of the short stories Cataluna  included in the book, about a man trying to convince his girlfriend that she is his one and only "babes", is very similar to a track on her comedy album with Tony Gillis from waaaaay back in the 90's. Take a listen below, you'll be happy you did, it's very funny.
[wpaudio url="http://www.hawaiibookblog.com/mea/2011/09/07-Love-Local-Style.mp3″ text="Lee Cataluna & Tony Gillis – Love, Local Style"] [gn_divider]
Another book being released late in September (like right now) and early October is the murder-mystery sequel Murder Leaves Its Mark by Victoria Nalani Kneubuhl. This is the second book featuring the sassy sleuth-saying Mina Beckwith and her unlikely partner Ned Manusia. The two again find themselves hot on the heels of a murderer in 1930's Honolulu, a city in the flux of great change. Everyone is a suspect, from the high social circles of Honolulu's elite to the back alley hoodlums. Headstrong Mina and over calculating Ned strike quite the pair and I'm excited to see how their relationship evolves in this second book.
V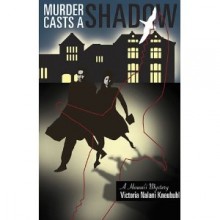 ictoria Nalani Kneubuhl is also a successful playwright and her first book Murder Casts a Shadow (University of Hawaii Press, 2008) is where we are first introduced to her leading character Mina Beckwith. What makes Mina such a special character is that she is a female newspaper reporter in Honolulu in the 1930's and she's of part Polynesian descent. Her partner is Ned Manusia, a highly intelligent playwright and amateur detective who is also of Polynesian descent. Needless to say, there aren't many mysteries set in Hawaii with such strong local leads. I'll admit, it took me a little while to get into this first book, but after a couple of chapters and a few more dead bodies it began to pick up a pace. Kneubuhl does an excellent job of transporting you to a Honolulu few people read or know about. She paints an interesting picture indeed. Definitely a recommended read for those who love  a good "who-dunnit".
Check out this old Advertiser article featuring Kneubuhl doing a reading from the book.
Now through October 3, 2011, purchase the latest book, Murder Leaves Its Mark online and receive Murder Casts a Shadow free. To order the sale set, go to this site. This special sale is online only; books ship as a set.