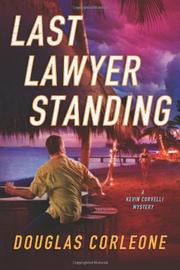 Our favorite Panama Jack wearing lawyer is back, still Google-ing and "recreating" in Last Lawyer Standing (Minotaur, 2012) the final book of the Kevin Corvelli Mystery Series. Author Douglas Corleone weaves his most enigmatic tale yet in a crime thriller so dense with action and humor it'll make you weep that this is the end of the trilogy.
By itself, the title of the book already sets us up for intrigue–LAST LAWYER STANDING. It sounds like Corvelli's participating in some Mexican standoff in the court room—a gun slinging hot-shot in a legal shootout with too many angles to count. It's the District Attorney, the Honolulu Police Department, the D.E.A., the State of Hawaii, Chinatown crime syndicates, shady land developers and the mob, all pointing guns at each other and out for blood. Will Corvelli really be the last lawyer standing?
Speaking of Kevin Corvelli, I mentioned last year in my review for Night on Fire how I feel about him. I think he's one of the best modern characters created. He's his own worst enemy and given Corvelli's numerous, powerful enemies, this really says a lot about him. He's deliciously flawed—a reluctant good-guy with bad-boy habits. This latest book shows how far Corvelli has come since he washed up on the shores of Oahu, fresh off the boat from a stifling career in New York. He has his share of ups and downs (uppers and downers too) and those crazy, life threatening cases that garner national media attention never fail to find him. With murder, meth, crooked cops and hooker witnesses, Corleone buries Corvelli in a case so laden with trouble that he's really going out with a proverbial bang.
It doesn't feel like it at first, but there's so much going on in the beginning half of the book it makes my brain hurt. Initially there isn't too much action, especially compared to the famous Chapter 2 from Night on Fire, just a lot of bodies and even more names. But a killer plot takes some time to set up. What I do like about this is how well Corleone is building suspense and casting his net of suspects before you even know the full extent of the crime… or should I say crimes, plural, some of which are naturally perpetrated by Corvelli himself.
Jake and Flan are still around but there are a few new characters introduced with some suspicious timing including a blast from Corvelli's past in the form of ex-Assistant U.S. Attorney Audra Karras. My favorite new character is Scott Damiano, a reformed mobster and friend of Milt Cashman, Corvelli's mentor back in NYC. Scott and Corvelli have more in common than they expect and with the amount of trouble this new case brings, Scott's expertise and unique skill set gives Corvelli the edge he needs.
I've read many books—mysteries and romances, crime-thrillers and dramas—that take place in Hawai'i. Some do a great job of showcasing the different facets of life here in the islands and others do not. The longer Corvelli has lived and worked on Oahu the more balanced his view of Hawai'i has become… it's something that clearly changes over the course of the series. In the end, what I appreciate most about Corleone's writing is the steadiness of his portrayal of "paradise." He shows the good and the bad, without romanticising one or demonizing the other. Hawai'i has its problems just like any other place, stories that limelight the negative in an attempt to achieve irony are stale compared to the elegant way Corleone highlights the different aspects of "paradise" as home and not just a concept or an ideal destination. 
They say a series gets better with each book and in this case I'd have to agree. Corleone's tight, latticework plot will keep you turning the pages and his dry wit and well-developed characters will keep you entertained. It's a book I highly recommend–another "must-read" from Douglas Corleone. Follow him via Facebook author page for more info on his books and upcoming projects.
**Spoiler alert! Highlight the text between (( I'm very happy with the way the book and series ended. It's good to know that despite being arrested, stabbed, shot, beaten, and pepper sprayed Kevin Corvelli survives. Not only that but he's stopped running, in more ways than one. He's found himself again. But does he get married? Does he have kids? Although, Kevin Corvelli with kids scares me a bit. Does Scott Damiano stay in Hawaii to meet a perky book reviewer with a fondness for ruffians? Epilogue please!! ))
*A copy of the book was provided to HBB by the author in exchange for a fair and honest review.
Last Lawyer Standing
Douglas Corleone
Hardcover: 352 pages
Publisher: Minotaur Books; First Edition edition (August 21, 2012)
Language: English
ISBN-10: 0312552289
ISBN-13: 978-0312552282