A Review for Night on Fire
Obnoxious Lead Characters We Love to Hate–An Essay
MaiTai's Aren't Hawaiian: Cocktails & Misconceptions in Paradise
Manwhoring: Male Promiscuity in Fiction
Just kidding 😉
A Review for Night on Fire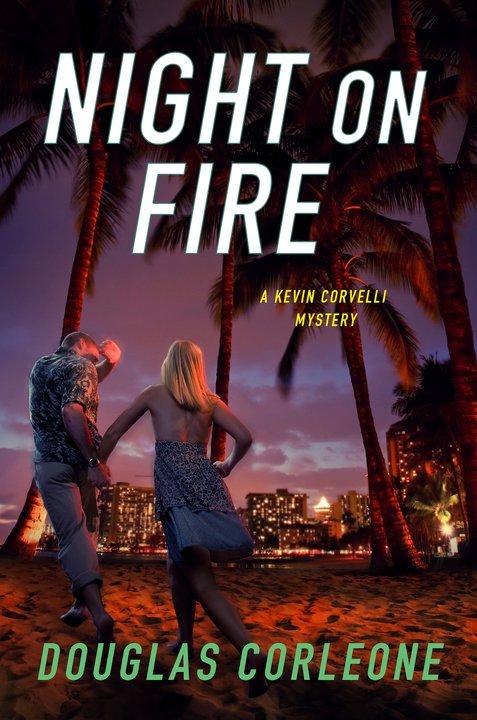 Sequels can be tricky. On one hand they're harder to write, especially when the predecessor is an award winner. You have to keep the writing fresh and take the characters to higher levels while maintaining the feel of the first book. On the other hand, it can be easier because your setting, voice and main characters already have a strong foundation that readers are invested in.  After reading One Man's Paradise last year [see our review], I was definitely invested in main character Kevin Corvelli (read 'invested' as 'geeky-fictional-character-crush'). My excitement for this spring's release of Night on Fire was almost palpable and I couldn't wait to see the crazy situations he'd find himself in this time.
We catch up with Kevin doing what he does best—drinking and picking up women at an upscale resort. Post-one-night-stand but pre-walk-of-shame, he wakes to a raging hotel fire and finds himself both an unexpected hero and a witness to an horrific event that quickly gains national attention.  Suspect number one is a young woman named Erin Simms who was married on the beach that very morning.  Before the end of the night, her husband is stabbed in his bed and the fire that's set in their honeymoon suite to conceal the crime spreads and viciously kills 11 innocent people including two children. The public, the press, and the prosecutor are all out for blood and Erin Simms has the motive, the opportunity (the sketchy, mysterious past) and of course, wants Kevin to represent her. It'll be a miracle if he can find a way to show reasonable doubt.
Up until this point, Kevin has been practicing law in Hawaiʻi for a little over a year—finally acclimated to his new home, just getting over his last national fiasco with the Gianforte case, and in a nearly complacent routine of handling drug felonies.  But this latest crime to hit national airwaves proves that island politics is a fickle mistress, more fickle than the women he picks up in bars, and he starts to question any of the progress he's made since leaving New York.  Several challenges present themselves:
Instead of the mob, there's a new, hot shot district attorney from L.A. trying to make a name for himself and legally cockblocking dear Kevin at every turn.
Erin

Simms

is a sexy and borderline schizophrenic client who isn't very forthcoming wi

th

helpful information.  But

Corvelli

is still inexplicably drawn to her and 

biblically

expresses it. (Honestly, who dumps Miss Hawaiʻi to go out wi

th

a maybe-murderer, even if she *is* the hottest thing since toast?)

Corvelli's

recklessness in taking and rejecting clients is causing a rift in the company and putting the firm at risk. His law partner and friend Jake Harper is recently heartbroken, drinking more, and generally grumpier than ever.
The case is slow going because their go-to investigator Ryan Flanagan is constantly distracted with domestic conflicts since his estranged daughter moved in. Kevin is just plain distracted.

Corvelli

is breaking all the rules of his great mentor "Not Guilty Milty"

Cashman

, questioning his own ethics and ignoring his own good advice by antagonizing the prosecutor while taking serious advantage of the attorney-client privilege by sleeping wi

th

the suspect… in a hot tub, while she's out on bail.
Just as in the first novel, Corleone doesn't pull punches when it comes to his hero's flaws. Not just one or two to show depth of character, nope, they are numerous and deep seated. You can't deny while reading the book that Kevin Corvelli has issues. In fact, at several moments I would stop and think "he's lost his friggin' mind!". The interesting thing is that Kevin himself is starting to see his patterns of self-destruction. In the first book he's reconciling his past, but in this book it's his present.
Even at his most mentally deficient, Kevin Corvelli still has swagger!  He's just oozing with sexy machismo and you see how he easily closes the deal, both in court and in the bedroom. He's a bit of a chauvinist and he's got an abundance of that cocky, self confidence you associate with people from the mainland. You kind of hate him, but you kind of love him at the same time. In the first book you can tell he's a player, but in Night on Fire, Corvelli's on a whole new level of casual sexing. There's a running joke about how he can't remember the name of a woman he's slept with—a famous local artist whose paintings even hang in his office, yet he's still arse enough to forget her name. That's how much of a manwhore he is. Also, I think Corleone is working toward a Panama Jack and Tommy Bahama endorsement because you literally cannot escape this book without hearing about Corvelli's hat or shirt. Like Poirot's mustache or Sherlock Holmes' plaid deerstalker hat, Panama Jack and Tommy Bahama are synonymous icons of Kevin Corvelli.
Overall, the story was good; the reader is appropriately hooked in the first few chapters, and there's enough twists and turns to keep you guessing. There's a lot of subtle emphasis on the extras, the subplots, so it's slow to get into the meat of the investigation/detective work and courtroom drama. Even though the ambitious subplots weighed it down a little, I still liked the short chapters and the snappy dialogue. I wouldn't say it's catered to a mainland audience, because anyone who loves mystery will enjoy this book. It's generally imbued with a unique kitschy kind of humor that toes the line between cheesy sleaze and amusingly witty. Corleone also makes interesting use of creative superlatives like "scream of dawn" and "Saab-sized". This, along with very large doses of hyperbole and liberal allusions to current events and pop-culture, make Night on Fire a truly entertaining read.
What impresses me most about Douglas Corleone's writing is that he is fearless with his main character and appropriately puts him through the ringer; not just enough to convey conflict and move the story along, no, sometimes just because.  This fills me with sadistic writerly glee. Right away, Corleone makes Corvelli pay for his big-boy fun with a midnight hunt for bottled water through the hotel, in his boxers, with a clueless preschooler in tow. More often than not, the repercussions of Corvelli's actions are not pleasant. I think everyone should read this book just to experience the genius that is Chapter 2. I can only hope, in my lifetime, to create a scene that is as simultaneously funny, awkward, endearing and foreboding as the one he crafted in Chapter 2. Seriously, must read.

**Night on Fire, the second 'Kevin Corvelli Mystery' by award winning author Douglas Corleone, is being released this coming Tuesday, April 26th!
After you buy the book, and devour it in three days, join us at Doug's book launch on Saturday, April 30th at Barnes & Noble Ala Moana from 1:00-3:00 pm. He'll be there to do a reading, sign books, answer questions and maybe… just maybe, he'll be wearing his Panama Jack hat. In fact, I'll even bet on it. Doug will also be appearing at the Hawaii Book & Music Festival in May.
PS—Each time I read "Ku Pulupulu", the fictional name of the resort, I cringed inside. I thought, "what a lame name! If you're going to create a fictional Hawaiian resort, at least pick a name that means something!" (really sometimes I can be such a knit-picky shrew). Well bully on me… because 'pulupulu' in Hawaiian is actually a form of kindling or ignitable material, as used while rubbing sticks for fire. To this I say… well done Mr. Corleone *bows* well done!