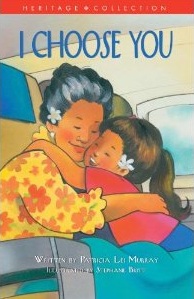 I Choose You by Patricia Lei Murray is one of the only 'early chapter books' I've ever seen locally published. Part of Island Heritage Publishing's 'Heritage Collection', this exceptionally well produced book is also nominated for a 2010 Ka Palapala Po'okela Award.
As far as local literature goes, there's not a lot of middle ground. There are a ton of picture books and then a lot of adult and teenage novels. Graham Salisbury's Calvin Coconut series, and now I Choose You, are especially unique because they're perfect for those kids transitioning from reading long picture books to short chapter books, kids 7 to 10 years of age.
I Choose You is the story of La'i and her aunty, Ku'u. Aunty has to take an important trip to Paris, and although it is very far away from Hawai'i, and very different, she chooses to take La'i with her. The book follows the two of them as they explore the city and learn new things while sharing their own songs and hula with a French halau.
There's a lot to love in this little book. The relationship between La'i and Aunty Ku'u is enriched by such a grand adventure. The story reflects the values that many local families have of ohana and maintaining strong bonds with extended family and kupuna. I particularly liked reading about how Aunty would bring food over to the house on weekends, or how she tied a scrap of bright Hawaiian material to the handle of their suitcases so they would be easily recognized (hello, Ma?!).
Each little chapter starts with a colorful  illustration by Stephanie Britt. It helps break up the pages of text for young readers who aren't quite ready to make the leap to serious, text only chapter books. The pictures add a lot of character to the book, but what I really love are the black and white sketches of different food items. In the beginning it's local foods like manapua, and when they're in France we see croissants and crepes. Britt did a brilliant job making the illustrations interesting and fun without losing the maturity of a chapter book.
The only issue I had with this book is the pronunciation guide in the back. While I appreciate that it is included, the pronunciation of Hawaiian words is hard enough for people who aren't used to the vowel formations, but to have the guide be wrong just makes it worse (poke: PO-kay and pule: POO-lay should be PO-keh andPOO-leh). Also, some of the chapter and paragraph transitions could be a bit smoother. Overall, it's a charming story with a heart-warming message about sharing and learning new things. A lovely example of how we should always give more than we receive.
Patricia Lei Murray is also author of Hawaiian Quilt  Inspirations, a Journal of Life (Mutual Publishing, 2003).