The latest board books to come from Beachhouse Publishing have got us here at HBB very excited for more… they just keep getting better and better!

Geckos Make a Rainbow is the fifth book in the popular gecko series by local artist Jon Murakami and it doesn't disappoint. Like its predecessors, the pages of Geckos Make a Rainbow is filled with the funny faces and hilarious antics of our favorite geckos. This time they work together to make a rainbow during a rainy day. Keiki will learn about colors as the geckos look around for various things to make into a rainbow. They find red lehua to string together for the top layer, and indigo berrries for the bottom. The best part was the yellow layer where they hooked together stars (starfruit) and a couple of geckos in the background cut the fruit the long way and thus couldn't use that piece because it didn't look like the other "stars". I think this latest book is my favorite of the gecko series, and that's really saying something since me and my young reading buddies REALLY like these gecko books.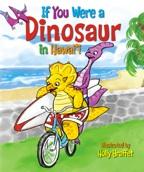 Aside from the thrilling concept of dinosaurs living like local kids–dancing hula and eating shave ice, what we find really exciting about If You Were a Dinosaur in Hawai'i is that it's illustrated by Holly Braffet. Holly is the talented illustrator of Maile and the Huli Hula Chicken, a book we reviewed earlier [here]. Her unique drawing style lends itself to fun, whimsical stories and we're happy to see her as a regular contributor to local keiki literature. The dinosaurs are expressive and colorful, the font is bold and bright and the story is simple… "if you were a dinosaur would you…". While not as intricate in background detail as Murakami's gecko books, If You Were a Dinosaur is original and engaging in every way. It's definitely a winner. I adore Braffet's drawing style and can't wait to see what else she's got for us in the future.
Most of Beachhouse's offerings are co-written and designed by Jane Gillespie, whose dedication to providing Hawaii's kids with quality books that they can call their own, is one of the reasons we enjoy doing what we do here at HBB.  Check out what she added to the Beachhouse website: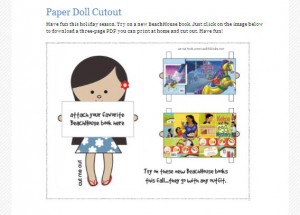 It's a PDF of a paper doll cut out… and her best accessory… BOOKS!! I love this! She should make all the book covers available for the doll. Then when you're reading to your kids and you switch up the books, your paper doll can switch it up too. You gotta love anyone who would make a doll's best accessory her books. Did I say I love it already? I LOVE it!