Just in time for the holiday season, Mutual Publishing has come out with a handful of promising new keiki books! Hawaiiana children's books are always so much fun to read especially since the quality of said keiki books produced here have been improving exponentially with diverse and intelligent story-lines and sophisticated illustrations.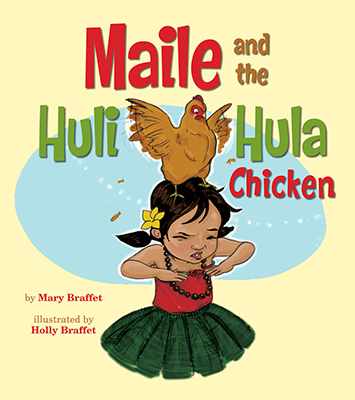 In Maile and the Huli Hula Chicken,  mother-daughter team Mary and Holly Braffet bring you a story of hula hijinks. As Maile and her cousin prepare a hula number for an upcoming luau, they are constantly interrupted by a stray chicken and can barely practice!  At the luau Maile is nervous about her dance as she watches all the beautiful hula girls perform before her. When the chicken stumbles into her dance number will she cry fowl or keep dancing?
The book starts out with Maile's brother waking her up exclaiming that there's snow outside. It's a prank of course and Maile is disappointed to see the same green coconut trees. I feel like this introduction is slightly disconnected from the rest of the book as it doesn't really set up anything for the central conflict. I know what you're thinking, it's a kids book, stop over analyzing… except that the two kindergartners I was reading to were confused over that bit as well.
At the end of the story (which I won't ruin for you) you kind of  "get it", but it's almost as if the beginning of the book was written to justify the joke at the end.  The middle of the book, however, was wonderfully charming to read. The colorful, energetic illustrations are really what make this book worthwhile. Holly Braffet does an amazing job capturing facial expressions and cute little background details. There's a picture during the luau performances, of a little hula girl making faces at her lei, that just had me rolling! The way Braffet drew the different hula dancers had my young reading audience oohing and ahhing, and the chicken flapping its wings while perched on Maile's head was practically riotous to them. Overall the book was enjoyable, even if it felt a bit forced at times. As long as the kids love it and feel that it represents a part of their life and culture—that it's something they can relate to and identify with… you can't ask for more than that.
Mary and Holly also collaborated on another book called No Slippers that came out in 2005. We look forward to future projects by both.
Huli Hula Chicken Events!
Be sure to check out one of these Maile and the Huli Hula Chicken events in the coming weeks.  It's always important to support our local authors, illustrators, books and publishers!
Sunday, November 14 – 12:00pm at Borders in Ward Centre
Saturday, November 20 – 11:00am at Barnes & Noble Ala Moana
Sunday, November 21 – 11:00am at Barnes & Noble Kahala Mall
Saturday, December 4 – 10:00am at Barnes & Noble Lahaina (Maui)
Saturday, December 11 – 1:00pm at Borders in Waikele