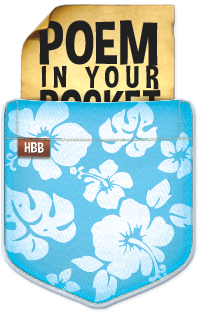 Happy "Poem In Your Pocket Day!" (April 26th)
As part of National Poetry Month pocket poems have been a fun way to celebrate, learn and share the power of poetry. We decided to do "Poem In Your Pocket Day" Hawaiʻi Style with an interactive Aloha Shirt Edition featuring poems by local authors and readers of HBB!
Mahalo plenty to all the writers who submitted their work. Thank you for allowing us to borrow your poems in our first annual Poem In Your Pocket Day-Aloha Shirt Edition. Won't the other poets be jealous?
Click here or on the image to the left to begin. Please enjoy and share, share, share with your family, friends and co-workers.
*To see a specific Pocket Poet, select that person from the the side menu on the next page and their poem and info will appear in entirety under the pocket.
Start writing poems for next year so we can make "Poem In Your Pocket Day" Hawaiʻi Style even bigger and better!