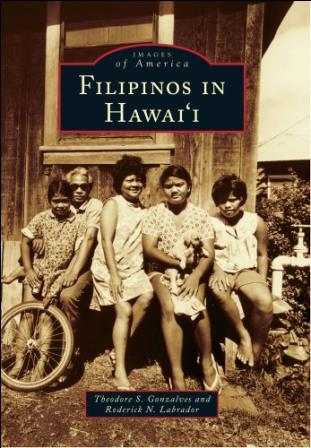 I briefly described Arcadia Publishing's Images of America series a while back in a review of The North Shore of Oʻahu by Joseph Kennedy.  Continuing in that series is a book released late in 2011 covering one of the fastest growing ethnic groups in Hawaiʻi.  This book is Filipinos in Hawaiʻi by Theodore S. Gonzalves, an associate professor of American studies at the University of Hawaiʻi at Mānoa, and Roderick N. Labrador who is an assistant professor of American studies, also at UH Mānoa.
In 2006, Filipinos celebrated 100 years living and working in Hawaiʻi. Filipinos in Hawaiʻi fasts-forwards to 1946—the final year sakadas (or plantation workers) were imported from the Philippines–tracing the history of Filipinos through photographs up until the centennial celebration in 2006.  From the dozens of photos provided to the authors by museums, historical societies, and private family collections, the book captures the essence of the Filipino-American experience in the wake of a modernizing Hawaiʻi.
Some of the highlighted sections in the book include Filipino rituals, portraits, Filipinos at labor and play, places and communities and even social movements. The wide variety of photographs show distinctly differing modes of Filipino dress, customs and surroundings. The social nature of their culture is perfectly captured in the great number of pictures depicting social groups, societies, and families living and working together. While I would have loved to see more history, or for the window of photographs to include all 100 years of Filipinos in Hawaiʻi, this book is still a nice collection providing an informative cross-section of Filipino life here.
A portion of the profits from the sale of the book are being donated to the Filipino American Historical Society of Hawaiʻi.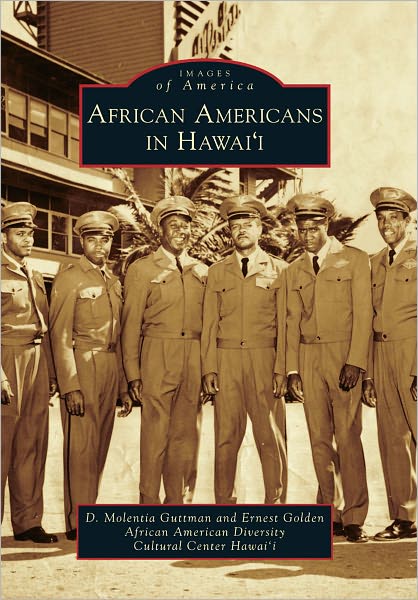 Last year for President's Day and Black History Month, I wrote a post honoring Barack Obama's ties to Hawaiʻi with a reading list including both Obama and African-American Hawaiʻi books. A book that would have been perfect for that list, but wasn't available at the time, is another Images of America book, African Americans in Hawaiʻi by D. Molentia Guttman, Ernest Golden and the African American Diversity Cultural Center Hawaiʻi.
Men of African descent have lived in Hawaiʻi dating back to the early 1800s. Today, roughly 35,000 residents, or about three percent, claim African ancestry.
Most of the photographs contained herein are portrait or group shots of notable African-Americans who have lived and contributed in Hawaiʻi. What I really like about this book are the extensive captions included for each picture which explain in good detail who is in the photograph, where it was taken, and any pertinent context to help flesh out the greater narrative.  From Anthony D. Allen, who settled in Honolulu in 1810 from Boston, and Bestsey Stockton who helped establish Lahainaluna School to Coach Bob Hall and choreographer Earnest Morgan, this book is a veritable who's who of notable African-Americans who've lived or had interesting experiences in Hawaiʻi. If anything, this book shows that while you don't often read or hear about it, African-Americans are found in every facet of life in the Islands.
Both books are welcome additions to anybody's historical archive or cultural legacy collections. While I found the photography to be more diverse in the Filipinos book—pictures of places, food, and materials abound—the African-Americans book not only has greater descriptive captions, but satisfies an area in Hawaiʻi canon that is still lacking, one that should continue to be encouraged to share the stories of Hawaii's African-American community to both the Islands and the world.