I hope everybody is having a fantastic President's Day weekend!  Not only is today President's Day, but it's February which means Black History Month.
I'm going to cheat a little bit and give you this description of Black History Month from History.com:
Black History Month is an annual celebration of achievements by black Americans and a time for recognizing the central role of African Americans in U.S. history. The event grew out of "Negro History Week," the brainchild of noted historian Carter G. Woodson and other prominent African Americans. Since 1976, every U.S. president has officially designated the month of February as Black History Month. Other countries around the world, including Canada and the United Kingdom, also devote a month to celebrating black history.
Now, I know I said this with my previous post about Hispanic Heritage Month, but when you think of Hawaii, you don't necessarily think of African-Americans.  Yes, there are quite a few in the population, especially due to the strong military presence in Hawaii, but unfortunately the written history and cultural representation of African-Americans in Hawaii runs few and far between.  Kathryn Waddell Takara, who is one of the foremost experts on African-American history in Hawaii believes this is due to past census classifications—many people of African ancestry were often classified as Portuguese, or part-Hawaiian, or lumped into a Coloreds category that included everyone who wasn't White.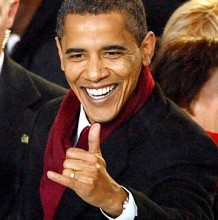 There has been a recent change of note with the election of Barack Obama as President of the United States.  Due to Obama's roots in Hawaii, there was naturally an exponential increase of interest in the cultural makeup of Hawaii to include African Americans, and how our unique mixture of Pacific-Asian cultures has influenced the current POTUS.  Many of the books about President Obama below, most published locally, focus on his relationship to Hawaii and our unique society.
Of course, Barack Obama is not the only notable African-American to come out of Hawaii.  According to Takara, the earliest settlers of African ancestry arrived well before the missionaries in 1820.  "Many Blacks sailed from Cape Verde or from other Portuguese colonies in Africa, and many more were runaway slaves from the American South."  In fact, according to research from Takara and Marc Scruggs, many of the ships that stopped in Honolulu or Lahaina carried crews that were 50 percent Blacks.  Some of these men included Black Jack, or Mr. Keaka'ele'ele, who helped build a storehouse for Queen Kaahumanu in Lahaina; Black Jo, who acted as the advisor and interpreter to King Kamehameha II; and Anthony D. Allen, an ex-slave who came to Hawaii in 1811, married a Hawaiian woman, and became so respected by Hawaiian royalty that he was given land to hold and pass on to his descendants (Allen's son was a paniolo).
These are just a few of the many Black men and women who contributed to the growing multicultural makeup of Hawaii.  Many of the books in the Reading Lists below detail the history of Black people in the islands, and the ups and downs they encountered in the shifting political and cultural climate.  If you have even the slightest interest in this topic, I encourage you to look for these books in your local book store or public library.  I was able to find every book I listed here at my local library:  Salt Lake-Moanalua Public Library.
There will even be a celebration of Black History Month at Barnes & Noble Ala Moana happening tomorrow, February 22 at 11am.  They'll be hosting a special story time and craft that includes a reading from President Obama's new children's book, Of Thee I Sing.  For more information click here.
Barack Obama Hawaii books: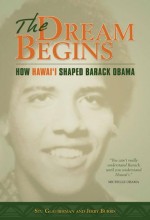 The Dream Begins: How Hawaii Shaped Barack Obama by Stu Glauberman and Jerry Burris
Published in 2009 by Watermark Publishing, this book provides one of the more detailed and eloquent portrayals of how Hawaii influenced the personality and philosophy of the current President of the United States.  The book is divided into chapters that run back and forth between Obama's biographical life in Hawaii, and sections about Hawaii's multicultural makeup, life lessons, and unique viewpoint.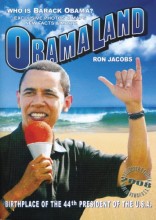 Obamaland: Who is Barack Obama? by Ron Jacobs
From Trade Publishing, Obamaland begins with an introductory letter by then Congressman Neil Abercrombie, a fervent supporter of President Obama, and continues into a brightly colored, glossy paged scrapbook of photographs, testimonials, and essays recalling Barack's days as a student in Hawaii and his impact on people from Dan Boylan to Raiatea Helm.
There is a funny and insightful review of Obamaland in the West Hawaii Today.  Read it, I was cracking up. ['Obamaland' fails to tell President's story]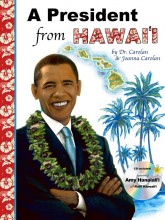 A President from Hawaii by Dr. Carolan & Joanna Carolan
While the President has his own children's book that has been recently released, the Carolan family who write a number of award-winning children's books set in Hawaii, decided to share with the keiki of the world the birthplace of the newly elected President.  We reviewed this book back in March 2010 and you can read it here.
African American Hawaii books: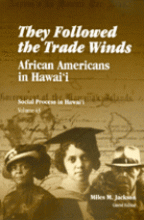 They Followed the Trade Winds:  African Americans in Hawaii guest editor Miles M. Jackson
This is probably the essential book covering African American history in Hawaii.  It's published by the University of Hawaii Press and is a part of the "Social Process in Hawaii" series published by the UH Sociology Department (read more here).  The book contains academic essays written by experts on topics ranging from the African diaspora in 19th Century Hawaii, to experiences of worship, military experiences in public school, connections between Cabo Verde and West Africa, and the Kanaka Maoli perspective, just to name a few.  If there is one book you want to get to find a sense of the African American experience here, then I would recommend this one.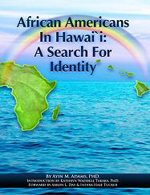 African Americans in Hawaii:  A Search For Identity compiled by Ayin M. Adams
Here's a description from the publisher:  "In this book, Adams presents a collection of essays on Hawaiian and Black histories in the Islands, discusses the historical keepers of black culture, interviews selected outstanding black residents who talk story and ethics, chewing the water. She presents significant cultural and community organizations and events of people working together. She shares speeches of Barack Obama in an effort to situate and dignify blacks in Hawaii and their significant and often overlooked and forgotten roles in the values basic to democracy"
This book is divided into four major sections:  Black History in Hawaii, Pioneering S/Heroes of the 20th & 21st Century, President Barack H. Obama, and Contemporary Hawaii with essays, writings and documents covering each subject.
University of Hawaii Center for Oral History: African Americans (Center for Oral History, 1990)
The Center for Oral History (COH) in 1988, contracted the services of Kathryn Waddell Takara, University of Hawaii at Manoa instructor and researcher in African American History, to interview ten older African Americans on Oahu.  She recorded life history interviews with three women and seven men.  All but one of those interviews were released in this publication.  The interviews cover a wide range of life experiences across the United States, as well as those in Hawaii such as living through World War II, segregated military housing in wartime and postwar Hawaii, African American-local relations, and adjusting to life in the islands.
For an even more detailed bibliography of African-Americans in Hawaii, check out the Hawaii State Public Library's bibliography of material.