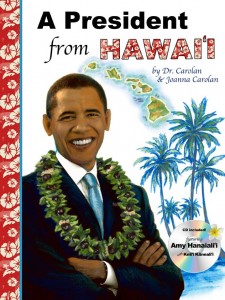 Back in November of 2008, a man made history in more ways than one when he was elected to the loftiest position in the United States government.  Among those various political feats, one of the most important for the inhabitants of America's only archipelago state was that he was the first President to hail from Hawaiʻi.  There are very few people in the U.S. (or the world) who do not know that Barack Obama was born and raised in Hawaiʻi—with the possible exception of Birthers, of course—but there are many worldwide who aren't aware of the richness and depth of Hawaiʻi beyond the tourist image; a diverse place which purportedly helped to shape the worldview of our current Commander in Chief.  Putting aside politics (and as a full personal disclosure, I did not vote for Obama, although incidentally I also didn't vote for McCain), I wanted to commemorate this President's Day holiday by reviewing a book written in and about Hawaiʻi as it relates to the 50th State's only Chief Executive.
A President from Hawaiʻi (Banana Patch Press, 2009) was created by Kauai author and illustrator team, Dr. Carolan & Joanna Carolan.  I think if you do put politics aside, this is actually an enjoyable, visually appetizing children's book that covers the history and culture of Hawaiʻi.  The narrative of the book employs a great deal of Hawaiian and local words representing various themes on each page.  For example, a page talking about the President attending Punahou School is covered by the Hawaiian word akamai which means smart or intelligent.  Later on, the importance of the environment is stressed with the words Mālama and ʻāina, while kids are further urged to help others and be responsible while learning kōkua and kuleana.  Also interspersed between the verses and Hawaiian definitions are numerous quotes from Barack Obama, each relating to the theme on hand…so you'll see Obama talking about his time at Punahou or the importance of education on the Akamai page while another detailing the plethora of local delicacies will be adressed with Barack Obama mentioning his affinity for the plate lunch.
The illustrations and design of the book exude very bright colors and is visually stimulating.  The best way to describe it is like going through a carefully designed but colorful scrapbook or collage, with various media from photographs to paintings and artwork engaging the reader to search every inch of the page to satiate their eyes.  In some cases, the effect comes off as a bit too busy such as having native fish swimming underneath a rainbow of Hawaiian flora while a McLovin'd Obama drivers license floats on one side and a cropped photograph of a dog with kaleidoscopic shades bookends the other.  But for the most part, the rich design works, ranging from kitschy tourist standards to the regal designs and patterns of the Hawaiian kingdom.  One of my favorite visual treats was a replica of the 2008 Presidential Electoral Map which was redone to display the red and blue states as if they were patches on a Hawaiian quilt.  While the overall look can be a bit overwhelming, I can see it being fun for kids to scan the pages, looking for all the different details that are included.
Ultimately, this is a book about Hawai'i.  In some ways, this book uses the fame and fortune of our newest President to help spread the richness of our Island culture and that isn't a bad thing.  This is a great way to share the history and social aspects of our unique home to children around the country amongst the backdrop of Obama's childhood and philosophical outlook.  Carolan writes, "On these islands that are so small, the Hawaiian people made room for them all."  While this was written about the various religious elements present in Hawaiʻi, it also serves as a summary for the overall feel-good theme of the book.  To many, Obama represents a shift in the ethnic and cultural makeup of the Presidency, one that finally reflects the true diversity of America's citizens—a diversity that has always been apparent in Hawaiʻi.  Yet "most importantly when you come from Hawaiʻi, you start understanding that what's on the surface, what people look like, doesn't determine who they are."
The role of President of the United States is an important one in our government and history.  It is the one leadership role which we most idolize, vilify and appeal to for action.  Whether you agree with Obama's political ideology or not, we can rest assured that we still live in a great nation, one in which the will of the people can still be fulfilled through the power of the vote.  Or as it's so succintly put in A President from Hawai'i, "no vote, no grumble!"  I wish you all a Happy President's Day and hope everyone enjoys their holiday!