News Release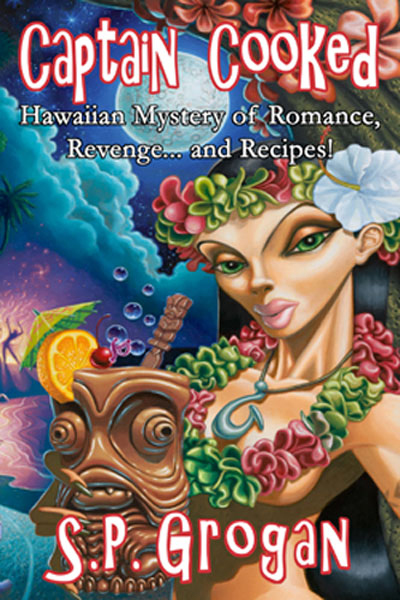 S.P. Grogan, the author of Captain Cooked: Hawaiian Mystery of Romance, Revenge… and Recipes!, will be returning to Hawaii for a special book signing tour from August 10 through August 15, 2011.
This past May, Captain Cooked received a Ka Palapala Poʻokela award for Excellence in "Aloha from across the Sea."  You can read our review of the book here: [Book Review: Captain Cooked]
On August 10th, in Honolulu, S.P. Grogan will be making a contribution of free copies of Captain Cooked to the Hawaii State Library for distribution to various library branches.
On August 11th, on behalf of the publisher, Grogan will present a check to the Hawai'i Food Bank, as a portion of the proceeds from sales of Captain Cooked have been set aside for this organization.
On Friday, August 12th,  the author will be signing Captain Cooked from 6-10 p.m. at the Wyland Kona Ocean Front Gallery (75-5770 Ali'i Drive, Kailua-Kona).  He will be signing with well-known local Tiki artist, Brad Parker, who illustrated the artwork cover of the book.  Call the gallery at 808-334-0037 for more information.
Saturday, August 13th, Grogan will be appearing at the Mai Tai Festival at the Royal Kona Resort (75- 5852 Alii Drive) from 11 a.m. to sunset.  Brad Parker will also be present.
Sunday, August 14th, from 10 a.m. – noon, Grogan will be signing books at Kona Bay Books (74-5487 Kaiwi Street) with Tiki artist, Brad Parker. Call the store at 808-326-7790 for more info.
[gn_divider]
Captain Cooked tells the story of a young haole woman who comes to the islands to help film her father's television cooking show, and winds up embroiled in 'Romance, Revenge, and Recipes'.  While stumbling into island romances, she tries to solve the murder of a Hawaiian singing star.  Featured in the book are 25 recipes from Hawaiian top chefs and restaurants, as well as a travelogue tour of the Big Island. A $5,000 contest using GPS is tied to the book, clues within. Visit captaincooked.com for updates.
S.P. Grogan is also promoting his latest work, an e-book serial docu-novel, an international political action thriller, Retaliate: Beyond the Grave, bin Laden's Final Attack on the U.S.  Readers can purchase episodes for $0.99, and Retaliate is available only on e-book platforms, like the Kindle and Nook. Visit retaliatethebook.com for more info.  You can watch the video trailer for Retaliate at spgrogan.com.