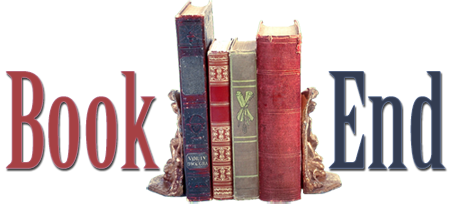 It's time…it's time…it's Book End Time! Welcome to this week's Book End, highlighting the week's literary and library events here in Hawaiʻi.
Borders Going Out of Business Sale

I received an e-mail from Borders Rewards letting me know that this was the last week of sales and that everything in the store was going at the astronomical rate of 70%, 80% and 90% off!  Of course, by now most of the stores on Oahu have probably been thoroughly pillaged of the best items, but at 90% off, I'm sure there must be SOMETHING you can find among the heaps of unwanted scraps that you'll find worthwhile.  So, whether or not the stores are closing this week or later, stop by and see if you can find a diamond in the rough.
[gn_divider]
Now on to the events…
Saturday, September 10
Friends of the Library, Kona (FOLK) Book Sale – Proceeds from sales help support the needs of the Kona libraries, with funding that includes educational and entertainment programs, community summer reading programs, visiting authors, magazine subscriptions, CD's, DVD's and new book purchases. As always, volunteers are welcome and receive a 20% discount. Kailua-Kona Public Library lanai; 9:00 A.M. to 1:00 P.M.  Please call 322-0077 to volunteer or for more information.
Friends of the North Shore Library at Princeville Book Sale – From 9:00 a.m. to 10:00 a.m. is the early entrance for Friends of the NS Library members only.  If you'd like to join the Friends and benefit from the early start time it's $15 for an individual, $25 for family, and $50 for a business.  Princeville Public Library; 9:00 A.M. to 4:00 P.M. For more information, call 826-4310 or visit princevillelibrary.com.
Portraits of Aloha Hope book signing – This is the book release event on Oahu for Sohee Chu's photograph book, Portraits of Aloha Hope.  Many of the women photographed will be present with the support of family and friends; the author will speak and present each woman with her own copy of the book. Portraits of Aloha Hope will be available for $45 with all proceeds going to support Women in Need (WIN) in Hawaii.  Seating is limited; an RSVP is required.  Trinity Church, 875 Auloa Road, Kailua, Hawaii; 9:30 A.M.  For more info, click here.
Mini-Con – Meet local artists, participate in fun workshops and games, watch some animation, and sign-up to win prizes at the library's second Min Con!  Featured guests are artists Audra Furuichi (nemu*nemu), Jon J. Murakami (Gordon Rider) and Kevin Sano (graphic designer).  Members from the Pen & Ink Works group will kick off the program by giving a short drawing demonstration at 10:30 a.m. Pen & Ink Works is a newly-formed artist group that promotes manga and anime as an art form and method of creative expression. Members will also be available to talk with budding and experienced artists who are seeking guidance and assistance by reviewing their art.The library will also be showing a variety of animation and give away free bookmarks and buttons, while supplies last. Cosplay is encouraged and those who dress up will receive a free special prize. This event is suitable for ages 9 and older. McCully-Moiliili Public Library; 10:00 A.M. to 1:00 P.M. For more information, call 973-1099.
Hanafuda: Hawaiʻi Style – Hanafuda are playing cards of Japanese origin that are used to play various games. This program, hosted by Helen Nakano, will teach the basics of the Japanese card game as it is practiced in Hawaiʻi. Ms. Nakano will discuss the myths and symbolism of the card designs, and provide methods of teaching others the game. This one-hour program is recommended for ages 8 and older. Kailua Public Library; 10:30 A.M.  For more information, call 266-9911.
Children's Storytime – Come to the book store every Saturday for a fun keiki story time reading.  This week they will be reading I Had a Favorite Dress by Boni Ashburn.  Come and find out how a girl's favorite dress goes through a series of creative changes through the years and gave her great memories that she will never forget.  For more information, click here.  Barnes & Noble Ala Moana Center; 11:00 A.M.
NOOK Color Storytime – How's this one?  Taking technology to the next logical step, enjoy a unique children's storytime experience as they read You are my Sunshine (Toot and Puddle series) by Holly Hobbie by means of a NOOK Color.  Barnes & Noble Ala Moana Center; 11:00 A.M.  For more information, click here.
"Get Ready" Emergency Preparedness Workshop – Hurricane season is here and runs through November 30. This workshop will provide important information for residents to know such as when and where to evacuate, and explain the difference between hurricane and tsunami shelters. Learn how to make an emergency plan for your family. Find out how to stay informed when there is a hurricane or tsunami watch, and what are the best resources available from local government. One emergency kit item per workshop will be awarded as a door prize. This workshop is suitable for ages 12 and older.  For more information, contact the library at 483-7333.  Mililani Public Library; 2:00 P.M.
Mariachi Music – Start celebrating Mexican Independence Day (September 17th) early on The Big Island.  Join Olga Salvatore and Greg Shirley on guitar for a live performance of Mariachi music. This program sponsored by Friends of the Libraries, Kona, is offered free to the public.  Kailua-Kona Public Library; 2:00 P.M.  For more info, call the library at 327-4327.
Sunday, September 11
Hawaiʻi Rice Festival – Do you love rice?  Of course you do, you live in Hawaiʻi!  In addition to all the fun festivities, Watermark Publishing will have a booth there to promote their book The Hawaiʻi Book of Rice by Cheryl Chee Tsutsumi [read our review here].  Autographed copies will be available for sale with a portion going to the festival's two charities:  the Hawai'i Foodbank and Lanakila Meals on Wheels.  Free rice paddle with purchase.  They will also have special gift sets available.  For more info on the book, visit Watermark's blog post.  For more info on the festival, visit ricefest.com.  Magic Island; 10:00 A.M. to 6:00 P.M.
[gn_divider]
Remember, all events listed above may be subject to change. Please contact the venue beforehand if you plan on attending. We encourage you to click on the links that are included with the events in the time line above. More events can be found on our Hawaiʻi Book Blog Events Calendar. You can also keep up with events through us on Twitter by following @HawaiiBookBlog.
If you have an event you would like us to help promote, please leave us a comment here or e-mail me at aalba@hawaiibookblog.com. Mahalo and have a great weekend!