When I was going away to college my grandma gave me a cute little rice cooker to take along. I didn't use it much the first year since I was on a meal plan and my roommate drank more than she ate. In sophomore year, I lived with some girls from Hawaii, who as it turns out, had little in common with me besides being from the islands. We used a bigger rice cooker for the three of us and despite the sharing of rice, the whole year ended tragically. Finally, in junior year, I found people who understood me and loved me as a college-family should. But they were potato eaters mostly, and laughed at the notion that I could possibly eat rice for breakfast, lunch, and dinner, and not even blink an eye. They would chuckle at me struggling to put the 20lb. bag of Calrose into the wagon at the grocery store. But that 20lb. bag would last me all year, and when we were counting pennies to get by, rice was always there. I used to joke with them… "rice will save your life," and that's true.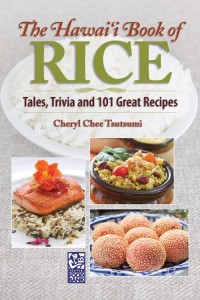 But rice doesn't just save  hungry college students. According to the Hawaii Food Bank who provides food to more than 183,000 people a year, rice is a staple of their service and always in demand. A percentage from each purchase of this new book, The Hawaii Book of Rice, goes to the Hawaii Food Bank to help them feed Hawaii's hungry.
The Hawaii Book of Rice, a new release from Watermark Publishing and author Cheryl Tsutsumi, pays tribute to this multi-talented grain with history, stories and recipes from local celebrities, chefs and people in the community. The book starts with the history of rice and how it came to Hawaii and flourished, then moves to "Rice Mythology"—a short collection of tales and legends about rice from different regions of the Pacific and Asia, then to personal stories of how rice plays a role in our life and culture, and finally to 101 ʻono recipes using rice. Undoubtedly, this book is one-of-a-kind!
Now, Watermark Publishing is well-known for their creative cookbooks and I was excited to see one dedicated to rice, so I wasn't surprised that there were so many things I adored about this book-cook-book. I can't possibly say it's just a cookbook, because it's so much more than that! First though, I have to say the only thing that threw me off a little was the personal stories. All of them were wonderfully written and heartfelt or funny—it's just that it felt a little out of place, like it should have been a book on its own. Even following the rice myths, it felt a bit disjointed. I suppose it felt that way because so many of the personal stories are from a first-person point of view and the rest of the book is info that's not from any POV. That being said, I still loved the personal stories.
It couldn't be called the Hawaii Book of Rice without some indication of how rice came to Hawaii and a bit about its significance to our culinary culture. The real stroke of genius was the inclusion of various folktales where rice plays a role. With stories from the Philippines, China and even Switzerland it's the most enchanting section of the book and besides the delicious food photos by Adriana Chong, they were my favorite part. My second favorite thing—a whole section dedicated to fried rice including the kim chee fried rice recipe from Big City Diner! The fried rice wasn't shoved in with the sides or the entrees…nope, it got its own section. And rightfully so! If you ask me, fried rice should have its own book!
The Hawaii Book of Rice is well organized and the recipes are easy to find, separated by appetizers, salads, entrees, sides and sweets (OMG the Pineapple Rice Cake with Mango Frosting looks sinful!). Although there's no approximate time included in how long it would take to prepare each dish, the recipes are concise, with easy to follow instructions. This spiral bound book-cook-book has full color, glossy pages and some of the recipes include a factoid or trivia tidbit about rice. It could be a proverb, a scientific or economic fact, a custom or superstition about rice. Did you know… rice is a member of the grass family? Or that rice was used as money in medieval Japan?
The Hawaii Book of Rice reflects not only the cultural importance of rice, but the imaginative way in which the people of Hawaii prepare and share it. It's quirky and fun, and has quickly become my new favorite collection of recipes. It would make a great gift (along with a rice cooker) for any graduate going off to college; or just a great gift in general.
Rice is so versatile, and with 101 recipes, this book-cook-book is the perfect example of how a person could eat rice for breakfast, lunch, and dinner, without blinking an eye.
The Hawaii Book of Rice: Tales, Trivia and 101 Great Recipes
Cheryl Chee Tsutsumi
Watermark Publishing, 2011
200 pg, spiral-bound softcover
ISBN: 978-1935690092
$15.95
[gn_divider]
Event Info
All events are free and open to the public.

Saturday May 21: Come to Barnes & Noble Kahala Mall from 1PM to 2PM for a reading, reception and book signing for The Hawaii Book of Rice with author Cheryl Tsutsumi.  Barnes & Noble Kahala will donate 3 cans of food to the Hawaii Foodbank for each copy of The Hawaii Book of Rice sold all day! You can also bring your own donation for the Hawaii Foodbank; volunteers will be present to collect food items or monetary contributions.
Sunday, May 22: Book signing at Longs Drugs, Windward City Shopping Center from 11AM to 1PM.  Longs is located at 45-480 Kaneohe Bay Dr.  For info on this event, you can call Longs Drugs at (808) 235-6451.
Monday, May 23: Book signing at Longs Drugs, Kailua from 4PM to 6PM.  This Longs is located at 609 Kailua Rd. and can be reached at (808) 261-8537 if you have questions.
Saturday, June 25: If you miss the other three events, make sure you do not miss this one!  The book will hold an event at Hawaii's Plantation Village Social Hall from 10AM to Noon.  In addition to a talk-story session with author Cheryl Chee Tsutsumi, Hawaii's Plantation Village volunteers will be preparing an ʻonolicious tasting menu of recipes from The Hawaii Book of Rice.  The Plantation Village is at 94-695 Waipahu St. and can be reached at (808) 677-0110.
* Disclaimer:  We received a complimentary copy of this book from the publisher in exchange for our honest review.