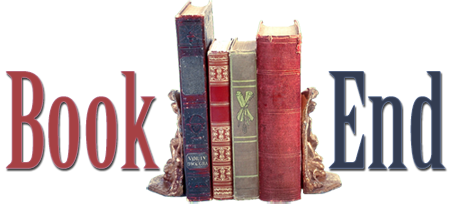 It's time…it's time…it's Book End Time! Welcome to this week's Book End, highlighting the week's literary and library events here in Hawaiʻi.
Support our local literary scene and our local libraries by attending these events.  Have a great weekend, everyone!
Friday, August 24
Small Island book signing – Note: This event was moved from last week Friday.

Meet the author of the Maui novel, "Small Island" at this special Barnes & Noble event!  If you missed Anthony Pignataro the last time, this is your chance to meet him again and chat about the novel's sequel or discuss his first book.  Pignataro also writes for the MAUI TIMES. 

But first, read our review of Small Island! Barnes & Noble Lahaina (325 Keawe #101); 4:00 P.M. 
Saturday, August 25
Chinese Book Sale - The Friends of Liliha Public Library will conduct a Book Sale of Chinese language materials at Liliha Public Library in the Meeting Room. The book sale will feature a variety of used Chinese language books, videos, and CDs at bargain prices. Please enter through the side door. Come early for the best selection. Proceeds from the sale will be used to purchase new books and other materials for the Library's popular Chinese language collection. Liliha Public Library (1515 Liliha Street); 9:00 A.M. to 12:00 Noon. For more information, please call the Library during regular public service hours at 587-7577. Questions can also be answered in Cantonese and Mandarin Chinese.
8th Anniversary Celebration of Kapolei Library - This is an all-day event with the celebration starting at 10:00 a.m. with the Friends of the Library, Kapolei—FOLK Book Sale.  All proceeds go directly back to support the library. The melodious voices of the GleemenPlus Choral Group, lead by Mark Yasuhara, will entertain attendees beginning at 10:30 a.m. in the Library's main lobby. Throughout the day, there will also be age appropriate craft sessions for both children and teens. The day promises to be fun for everyone! Kapolei Public Library (1020 Manawai Street); 10:00 A.M. to 3:00 P.M. For more information, call 693-7050.
Understanding Your Medicare Options Can Be Easy As A, B, C (And D!) – Sani Asuao, a representative of a health care provider, will share basic information about Medicare and the benefits that are offered. This workshop will provide participants with a better understanding of Medicare to make the right choices for their individual needs. The 45-minute workshop for adults will include a question-and-answer session. Kailua Public Library (239 Kuulei Road); 10:30 A.M. For more information, call 266-9911.
Makiki Community Library Open House & Used Book Sale - Makiki Community Library is having an Open House on August 25 from 12-4pm. There will be authors and publishers in attendance along with a Used Book Sale and refreshments.  The Used Book Sale will continue on August 26 from 12-4pm.  1527 Keeaumoku St.  FREE parking and admittance.  Makiki Community Library (1527 Keeaumoku St.); 12 Noon to 4:00 P.M. For further info 542-3334.
Emergency Preparedness with Boy Scouts Troop 115 – Teen representatives from Boy Scouts Troop 115 will conduct a two-hour presentation for the public about emergency preparedness, survival kits, CPR, and basic first aid. Every family should have a plan in the event of a natural disaster, but when a hurricane, tsunami, earthquake, or flood hits, do you really know what to do? The City & County of Honolulu's Department of Emergency Management will also provide handouts. Boy Scouts Troop 115 provides service to the communities of Kaimuki and Aina Haina. Aina Haina Public Library (5246 Kalanianaole Highway); 1:00 P.M. to 3:00 P.M. For more information, call 377-2456.
Author Event with Katalin Koda – Ms. Koda will be signing and discussing her books Fire of the Goddess: Nine Paths to Ignite the Sacred Feminine and Sacred Path of Reiki: Healing as a Spiritual Discipline. Katalin Koda is a passionate explorer of earth stories, women's mysteries and the mythic expression of our world. Along with her work as a visionary artist, poet, and dreamer she has been leading workshops with an integrated and multidimensional approach for fifteen years. Katalin is an experienced Reiki Master having given hundreds of sessions and taught dozens of students around the world. Her current healing work incorporates indigenous wisdom, shamanic principles and Reiki healing. Basically Books (160 Kamehameha Ave., Hilo); 1:00 P.M.  For more info, visit Basically Books website.
College Savings Plans: Simply the Smart Way to Save for College - Free event. The cost of attending college continues to increase. Learn how to compare various options and how to save for college. Find out about 529 College Savings Plans, and how they fit into your overall financial plan. Financial Advisor David Ching is a graduate of Punahou School, the University of Southern California (USC), and received a Masters degree in Business Administration from the University of Hawaii at Manoa. Seminars are one-hour in length and will include question-and-answer sessions. Kaneohe Public Library (45-829 Kamehameha Hwy.); 3:00 P.M. For more information, please call the Library at 233-5676.
Sunday, August 26
Beach Chair Diaries book signing – Author Janet Spurr is here on Maui, all the way from her home on the east coast! She'll be doing two book signings for "Beach Chair Diaries: Summer Tales from Maine to Maui." On Sunday, Janet will be outside the Grand Wailea Gift Shop; 9:00 A.M. to 2:00 P.M. For more info on this and her other event later in the week, visit her website at www.janetspurr.com.
Makiki Community Library Used Book Sale - Makiki Community Library is having a Used Book Sale and refreshments. FREE parking and admittance. Makiki Community Library (1527 Keeaumoku St.); 12 Noon to 4:00 P.M. For further info 542-3334.
Smart Ways to Save for College – David Ching, a financial adviser, will share information about the cost of colleges and compare various options on how to save for it. He will also provide details about the 529 College Savings plans and how the plan fits into your overall financial plan. Program is suitable for ages 12 and older. Kaneohe Public Library (45-829 Kamehameha Highway); 3:00 P.M. For more information, call 233-5676.
Remember, all events listed above may be subject to change. Please contact the venue beforehand if you plan on attending. We encourage you to click on the links that are included with the events in the time line above. More events can be found on our Hawaiʻi Book Blog Events Calendar. You can also keep up with events through us on Twitter by following @HawaiiBookBlog.
If you have an event you would like us to help promote, please leave us a comment here or e-mail me at aalba@hawaiibookblog.com. Mahalo and have a great weekend!