I guess anybody who did anything on Maui that didn't involve smoking pot or banging a chick was some kind of outcast. So be it.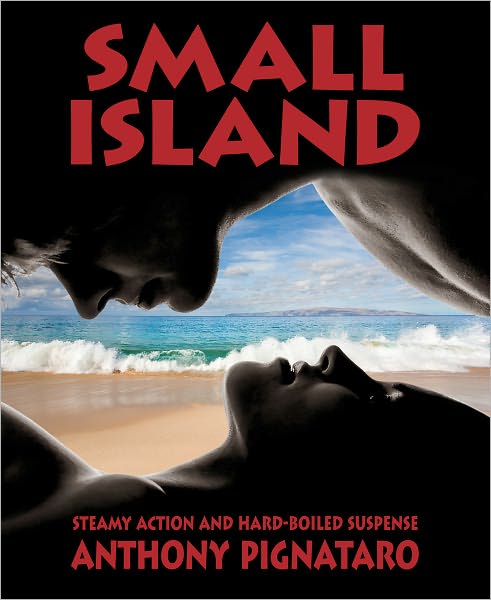 Anthony Pignataro is known primarily as an editor for the alternative newspaper MauiTime. In Small Island, his first novel, Pignataro culls his knowledge and experience as a reporter on Maui into a hard-boiled story full of mystery, love, and gripping suspense.
Charley Ridgway is a bartender in the sleepy, tourist town of Lahaina on the west coast of Maui. Ridgway has run through his share of bumps in life, including a mysterious stint in the US Marines before inexplicably escaping to the allure of life in paradise on Maui island. Unfortunately, paradise often isn't enough for a transplant looking for more than serving tourists, drinking with coworkers, and bedding transient women. So, during one shift when an attractive B-movie actress shows up and a robbery occurs at the bar, Charley suddenly finds purpose to his shallow existence. Before he knows it, our ambitious protagonist finds himself playing a game of chicken with Maui's seedy underbelly of crooked cops and shady real estate developers, a game which the rich and well-connected almost never lose.
I thoroughly enjoyed the author's take on Maui—the island itself feels like such a prominent force throughout the book. Whether it's the descriptive breakdown of Maui neighborhoods and how their inherent personalities lends further color to already fleshed out characters, or the common insistence throughout the story that Maui is a "small island," one whose business and legal acumen are at least a decade behind the mainland, making it a true "Wild West" for cutthroat developers and wealthy outsiders to take advantage of the locals and the land; Pignataro does a great job incorporating a sense of Maui into his story.
Small Island also contains interesting themes on the collateral damage caused by greed and over-ambition as well as the obvious but well-intended commentary against over-development, that to Pignataro's credit, meshes nicely into the story without becoming overly preachy. The book as a whole is not overly local, as Ridgway defines himself and his views as those of a Maui transplant, but it's interesting to note his seemingly poor opinion on tourists and their ignorance, as well as his growing awareness of Maui's (and in general, Hawaii's) indigenous past and the problems plaguing the land. Don't get me wrong, this isn't a rose-colored view of Maui–Ridgway makes no bones on commenting on Maui's institutional flaws and the shallowness of life in paradise while still remaining respectful to the land and its people.
Are you visiting Hawaii—specifically Maui?  Then I highly recommend this entertaining and thrilling beach read.  It's short enough (200 pages) and the pace moves quickly, so that you can easily finish it in a few beach trips since you won't want to put it down. It also contains enough social commentary and thoughtful themes that you'll finish the book a little wiser. Even for locals, the book's geographic tour of Maui is enjoyable, and the story and characters, while not all flattering, will keep your attention through each suspenseful chapter.
Small Island
by Anthony Pignataro
Event Horizon Press, 2011
205 pages, paperback
*Disclaimer: We received a complimentary copy of this book from the author in exchange for our honest review.