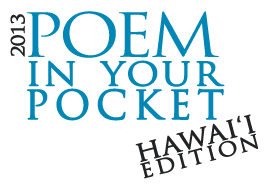 We're so excited for our 2nd Annual Poem in Your Pocket Hawai'i Edition!
This year we got some national recognition from Poets.org. They helped us spread our virtual aloha shirt pocket to others on Twitter (see screen cap below) and it was well received. This is just the beginning, with your participation we hope to make this event happen every year. Big mahalos to everyone who submitted their work, without you this wouldn't be possible.
Without further ado, follow the link to our virtual Aloha Shirt pocket and check out this year's poems (there are also links to last year's poems–the pocket will stay as 2013 but scroll down and you'll be able to read past poems). Click and drag the poem out of the pocket, then print or share your favorites with friends! The best way to celebrate 'Poem In Your Pocket Day' is to tell everyone you have one.
http://www.hawaiibookblog.com/poem-in-your-pocket/