10 Favorite Hawaii Children's Books
There haven't been too many keiki books released so far this year, but to close out our celebration of Children's Book Week we put together a short list of personal local favorites. No review or critical comments, just a casual, fun list of our favorite keiki books and why we love them.
Misty: In no particular order…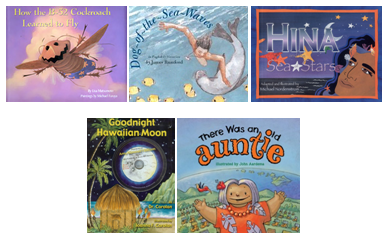 How the B-52 Cockroach Learned to Fly by Lisa Matsumoto is one of my all time favorite children's books period. I especially like when the cockroach visits the library to research flying techniques. Anything by Lisa is bound to be adorable, but this one is my favorite because it turns a misunderstood bug into a cute little hero.
Dog of the Sea Waves by James Rumford is a book we reviewed during one of our rec-fests. You can check that one out here. I love that this book is both in English and Hawaiian but mostly that the boy in the story is such close friends with a monk seal. It really exemplifies how Native Hawaiians were tied to the ocean.
Hina and the Sea of Stars by Michael Nordenstrom is another book we reviewed here. I love the colorful and creative illustrations for this fantastic retelling of Hina creating the heavens. Hawaiian legends are quite popular and have been retold in various ways but you won't want to miss this version.
Goodnight Hawaiian Moon by Dr. Carolan and Joanna Carolan is a local version of the classic  Goodnight Moon and has won national book awards. The story is nice and the illustrations are average but what really sets the book apart is the bedtime audio CD that comes with it—Amy Hanaiali'i turns this ordinary rendition into an extraordinary experience.
There Was an Old Auntie by Jane Gillespie and illustrated by John Aardema is an original take on "the old lady who lived in a shoe". It's such a cute book and shows how you can take Aunty out of Hawaii but you can't take Hawaii out of Aunty, or that home is wherever you make it.
Alex:
Too Many Mangos by Tammy Paikai and illustrated by Don Robinson is a book that I fell in love with immediately at first sight.  The inside does not disappoint either as this is a fabulous book about sharing, Hawaii style!  Don Robinson is one of my favorite illustrators and his work here is absolutely adorable.  This book was awarded the 2010 Po'okela Honorable Mention in two categories, although it's definitely a winner in my eyes.
Beyond Ohi'a Valley by Lisa Matsumoto and illustrated by Michael Furuya is an educational picture book about Hawaii's rainforests and invasive species.  The Matsumoto/Furuya duo are one of the great pairings in our local keiki literature scene and they deliver with this classic.  I really love Furuya's work here, as the shadow and light of the rainforest make for some amazing illustrations.
Wordsworth Dances the Waltz by Frances H. Kakugawa is a book I reviewed during our first Rec-Fest and was probably my favorite that day.  It's a truly touching story, brilliantly written by Frances Kakugawa that shows us how children can cope with a grandparent with Alzheimer's.  Melissa DeSica's lively cartoon style only helps cement this book as a true classic.
The Hawaii Snowman by Christine Le and illustrated by Michel Le was one of our holiday picks in December and is a book I really gravitated towards.  I have an affinity for snowmen and this book truly fulfills that.  I really enjoy how the beautifully rendered tropical scenes are punctuated by the cutest little snowman.  Fun for the holidays or any time of the year!
O Kaina Ke Kumu Koa/ Kaina the Koa Tree by Kawai'ae'a, Ka'awa, Keolanui, Kruger and illustrated by Furchgott is a whimsical story of a lost Koa tree that takes you through the natural habitats of Hawai'i.  This was another 2010 Po'okela Honorable Mention (in Children's Hawaiian Culture) which I felt should have won as it's a lot more fun to read and teaches you about the ecology of Hawaii through a unique adventure.
~So those are our 10 Favorite Hawaii Children's Books, some of them we've already reviewed and a few we haven't. The best thing is that there's still a lot out there that we haven't read and hopefully many more great keiki books to come.