posted by M.L. Sanico

Here is the first book review in our 8/8 Rec-fest to support  First Book-Oahu's Book Fair Fundraiser this weekend at Barnes & Noble Kahala. All of the books reviewed in this series are available from Barnes & Noble stores, as well as online at www.barnesandnoble.com.
Since First Book-Oahu strives to provide children with books and foster a l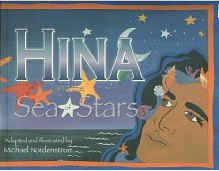 ove for reading, we thought it would only be appropriate to review books in the store from the Keiki Hawaiiana section! We're starting off with a great one, Hina and the Sea of Stars adapted and illustrated by Michael Nordenstrom.
This is the story of Hina, mother of the Hawaiian people, and how she left the sea forming the moon and stars, fell in love with a chief and started a family, created the first rainbow and searched for a place to live amongst the heavens. All of that in one beautifully illustrated book! Nordenstrom is a true artist and you can really feel the joy in this book. Each illustration is made with vibrant, colorful paper cut outs. It gives the book a lot of texture in a Carle sort of way (think "Hungry Caterpillar" meets local legends).
This book is actually the second in a series of books Nordenstrom adapted on Hawaiian Goddesses. The first was Pele and the Rivers of Fire which is also done with paper, but I think I prefer this one about Hina, the goddess in the moon, with it's gorgeous blue colors and rolling ocean scenes. It is amazing how Nordenstrom was able to portray such fluid movements using paint and paper collage and I particularly like how playful he is using text and font. It's very engaging for young readers and helps pull them along the story not just through the pictures, but the words themselves. I love that the pictures take up the entire page and there's no white space whatsoever, you're practically engulfed in the story!
This would be a great book for kids, and afterwards you can make paper cut outs of star-fish and crescent moons, rainbows and fish…just like there are in the book! Check out Nordenstrom's website for activities and more info about art and Hawaiian anthropology.