–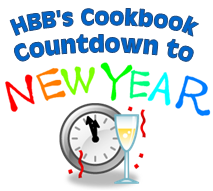 Well it's another week closer to the end of 2010 and I dunno about you but I am nowhere near prepared for the holidays. I feel like it's still August and yet, here we are already on week two of HBB's Cookbook Countdown to New Year! If you missed week 1, go back and check it out!
A lot of the cookbooks you'll be seeing on the shelf this season are coming out of Mutual Publishing's long list of impressive Fall releases. I really do admire how well they put together a cookbook, but I gotta say I feel like there are too many of them that have specific region names in their titles: What Hawaii Likes to Eat, What The Big Island Likes to Eat, What Maui Likes to Eat… What the Big Island Eats, What Maui Eats…Tastes & Flavors of Maui, Tastes & Flavors of the Big Island (these are all actual titles).
I am SO confused, really what is that about?  Apparently Maui and the Big Island have the best recipes? Pretty soon we're going to be breaking it down by neighborhood… "What Mililani Likes to Eat" or  "Palettes of Hawaii Kai" (they already have Tastes and Tales of Moili'ili). What about a cookbook titled "Flavors of Kaho'olawe", Chapter 1– Easy carcinogen cuisine for you and your family. 😛
And on that classy note, here's my review of the latest regional cookbook to hit the stands.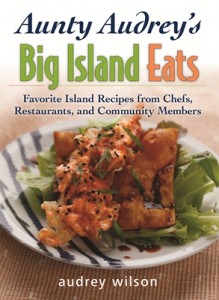 Aunty Audrey's Big Island Eats- Favorite Island Recipes from Chefs, Restaurants, and Community Members by Audrey Wilson
Aunty Audrey Wilson is the friendly food columnist who previously brought us What the Big Island Likes to Eat, a hardcover cookbook of over 125 favorite recipes. This latest collection is even bigger. Although it's not in the same hardcover, wide-page format as its predecessor, Big Island Eats still packs a big punch (I actually prefer the 6×9 sized books over the larger ones).
At first I think to myself, wow laulau, how many cookbooks does the B.I. need? What makes them so special? Well according to Aunty Audry it's everything. No really. It's because the Big Island has a little bit of everything that its food culture is so unique. She explains that the Big Island's varying and abundant landscapes offer up such a wide range of produce and ingredients that it enables them to cultivate a diverse food industry. Tropical rainforests, rocky deserts, rolling pastures and snow on Mauna Kea… I won't argue with Aunty on that point. Diversity in crops, got it, check!
The eclectic food categories are what I love most about this book. Divided by industry: the agricultural section has recipes featuring farm fresh veggies, the aquacultural section has seafood recipes from Big Island's favorite chefs, the livestock section has recipes from Kahua Ranch and more.  That's not all, there's 'Big Island Favorites', KTA Recipes and even a section featuring small businesses and how to make their bestselling grinds. Oh! And I can't forget to mention the omiyage section, 'cuz whenever townies like me visit the B.I. we usually bring back omiyage.
I also love that nearly every recipe comes from somewhere… some business, community representative, or restaurant.  It's like food validation. Nothing makes me wonder more than an "anonymous" recipe. I wanna know where it comes from, who makes it and why they love it. This book does that very well. It's also perfect for the undecided cook in your life; pasteles or sweet and sour spare-ribs? No worries they're both in here!
Cookbooks are always great gifts but before I go, there's just one little pet peeve– there are quite a few pictures in this book, and about thirty percent of them are just useless. Close ups of flowers and coffee beans, stock photos of veggies and plants…WHY!? Glossy color pages no come cheap! No waste space, just tell me how fo' make 'em and show me da food!  *ahem, composes self* (pidgin is my rant language of choice)
And finally, here's this week's chosen recipe:
Mayor Billy Kenoi's Favorite Shoyu Chicken (serves 6-8)

Mayor Billy Kenoi is a home-grown Big Island boy. Like so many of us, he loves shoyu chicken, especially the version that his wife Takako and 3 children enjoy.

INGREDIENTS:

1/2 cup dried shiitake mushrooms
4 (1/2-inch thick) slices of peeled ginger
1/2 cup water
1 cup shoyu
1 cup brown sugar
5 pound box chicken thighs, thawed
Sliced green onions for garnish
PREPARATION:
Soak the shiitake mushrooms in hot water to soften. Remove the stems and slice the caps into 1/4-inch strips. Peel and slice the ginger.
Put the mushrooms, ginger, water, shoyu, and brown sugar in a large pot and bring to a boil. Lower the heat to medium, add the thawed chicken, and cook for about 1 hour or until the chicken is tender. Slice up some green onions and sprinkle them over the chicken before serving.
###
My personal side note: Careful with the ginger, it's potent and easily abused. I have a heavy hand with these kinds of things and lets just say my dad (the family cook) blanched before sardonically exclaiming, "I need more (fricken) chicken to go with this pot of shoyu ginger." Obviously I did not inherit his culinary talent… sadly I did inherit his penchant for saying "fricken". 😉
*Aunty Audrey' s Big Island Eats, Mutual Publishing 2010, ISBN Soft Cover: 1-56647-928-2.