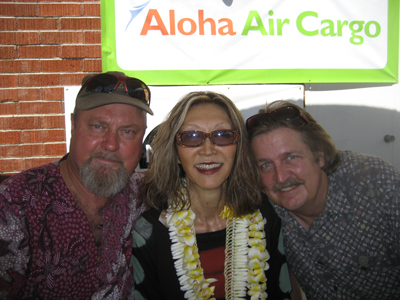 First off, I want to send a big mahalo out to everybody involved with the special Stories of Aloha book distribution and signing event for former Aloha Airlines (AQ) employees.  This event was put together thanks to Jocelyn Fujii, Hula Moon Press, Lokahi for Aloha Fund, and Aloha Air Cargo who hosted the event on their premises.  It was a great opportunity for former AQ employees to reconnect, talk story, and reminisce about the old days at Aloha Airlines.  For me, it was a pleasure meeting Jocelyn Fujii and Brett Uprichard along with Linda Taketa of Hula Moon Press.  I appreciate all that they have done for the former AQ 'ohana.  You can watch a quick KGMB9 video feature about this event here.
And if you're interested in Stories of Aloha, a review of the book is available here.  Part of the proceeds from all sales of this book will go to help former Aloha Airlines employees who are still struggling in the midst of our economic downturn.  When purchasing, I highly recommend getting a copy from Barnes & Noble Ala Moana as they have been strong supporters of the book and the Lokahi fund.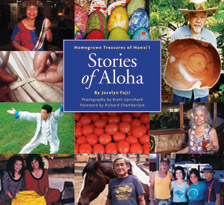 Giveaway!
Please review our giveaway guidelines first.
For those of you still reading and interested in our giveaway–this is the first of many here at Hawaii Book Blog, so please bear with us.  The winner will receive a new copy of Stories of Aloha, signed by author Jocelyn Fujii and photographer Brett Uprichard.  This is open to all of our readers in the United States of America.  Unfortunately, for our international friends, we still have to work out the logistics of doing a giveaway outside the U.S.

For this specific giveaway, you will need to be a Fan of Hawaii Book Blog on Facebook.  If you're not currently on Facebook, you will have another chance to win a copy of this book in the future.  However, we recommend you become a Facebook fan of HBB because we post exclusive content there such as photos from our Library Tours, videos and other special commentary.  In addition to that we will be doing future Facebook exclusive giveaways.  So click on the link at the top of this paragraph and hit the "Become a Fan" button!
So, all you have to do is leave us a message mentioning Stories of Aloha on Hawaii Book Blog's Facebook wall.  That is it!  Any comments are welcome; this is our chance to reward those of you who take the extra step of becoming a fan of ours.  The last day to post a message on our wall will be November 3, 2009.  After that day we will randomly select a winner from the entrants provided and announce the winner on our blog.  If you have any questions regarding this giveaway, feel free to send me an e-mail at aalba@hawaiibookblog[dot]com.