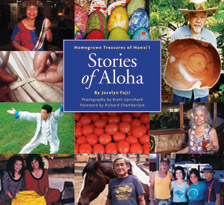 [gn_quote]This is a story of those who define Hawaiʻi.
This is a story of Aloha.[/gn_quote]
It goes without saying that anyone who lived in Hawaiʻi knows Aloha Airlines was one of its long-standing institutions, one that served the Hawaiian Islands for over 61 years spreading the spirit of Aloha across the state and around the world.  Unfortunately, in March of 2008 Aloha Airlines shut down due to financial reasons—the beginning sign of a down trending economy in Hawaiʻi and across the country—ending a legacy of rich aviation history, excellent customer service, and strong community ties.  I was lucky enough to be employed as a part of this great company, and will always be a proud member of the Aloha Airlines ʻohana.
Community and ʻohana are important parts of living in Hawaiʻi, and Aloha Airlines always defined itself through these characteristics.  So it makes sense that author Jocelyn Fujii took a cue from this and highlighted these aspects in her new book Stories of Aloha: Homegrown Treasures of Hawaiʻi. (Hula Moon Press, 2009).  Stories of Aloha is a beautifully designed soft-cover book compiling articles written by Fujii for Aloha Airlines' award-winning inflight magazine, Spirit of Aloha.  These articles span over two decades of Fujii's involvement with the magazine and chronicle a unique history of Hawaiʻi not defined by timelines or events, but by its most important resource:  its people.  Most of the book details the lives of various people and the small mom-and-pop or local businesses that they are involved in, and how each are tied in with the community they serve.  Fujii writes with a detailed narrative, inviting you into each world through the senses, ensuring that all the rich details of history, people, and location are fully covered.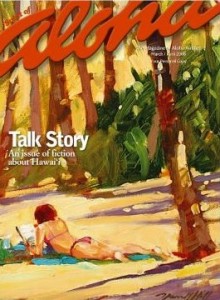 The book's articles are divided amongst the six major Hawaiian islands:  Kauaʻi, Oʻahu, Maui, Lanaʻi, Molokaʻi and Hawaiʻi; highlighting the unique aspects that each island and its people provide.  The articles feature such fascinating tales like that of Tsuruyo Kimura of Kimura Lauhala Shop in Kona, who during the Great Depression would barter hand-woven lau hala goods for sugar, flour, salt, salmon and other necessities; Uncle Harry Kunihi Mitchell, "one of the most important Hawaiian figures of the twentieth century," who owns a famous fruit stand halfway between Hana and Kahului where you can "talk story" about the Hawaiian ways while drinking an ono fruit smoothie or chew on homemade coconut candy; Takano Nonaka, who came to Kauai in 1921 and took soil from eighty-eight shrines in a Shingon Buddhist temple in Lawai to give to her four World War II-departing sons so that they would safely return the earth back to the place it came from—they all did; and Masaru Sumida of the Aiea landmark Sumida Watercress Farm who weathered an attack by the diamondhead moth and resisted the allure of selling his property to Pearlridge development to provide more than half the watercress in the state.
There is some beautiful photography in the book, most of it done by Jocelyn Fujii's partner at Spirit of Aloha, Brett Uprichard.  One of my favorites is a closeup taken of Kenichi Tasaka's weathered, ninety-year old hands atop one of his hand-woven bulrush sandals.  One of the coolest features of the book are the brief updates listed on the side margins of each article.  In these updates we are informed of the current status of the people and businesses that were featured.  Like catching up with old friends and acquaintances, the updates can be both happy and heartbreaking—a new generation of family continuing and growing the company that their parents or grandparents founded, or a skilled artisan or family business that has passed away. In addition to the well-written articles, recipes from actual former Aloha Airlines employees sporadically pop up throughout the book, providing a strong tie to the workers that made Aloha Airlines and the theme of people and ohana that resonate in Stories of Aloha.
This is a wonderful book that will appeal to people with broad reading interests:  those who enjoy reading magazine articles can briefly flip through the book to a feature they find interesting; others who enjoy discovering new people and places in Hawaiʻi will love learning about these small, unheralded gems; and people who like history will find that these articles, spanning over twenty years of Hawaiʻi, provide a primary resource for finding out more about how life was like during a certain period of time.  Purchasing Stories of Aloha also gives back to the many people who made Aloha Airlines great.  Part of the proceeds from sales of the book will go to the Lokahi for Aloha Financial Assistance Fund which helps aid former Aloha employees.
Like Aloha Airlines, we are reminded that the people of Hawaiʻi and their ties to the community are what make these local institutions so special.  Fujii says that "At the heart of [Aloha Airlines] were its employees…like the homegrown treasures who appear in this book, they are not forgotten."  Thanks to Jocelyn Fujii, Aloha Airlines and the many local businesses and the people who made them will never be forgotten as well.
Mahalo, Jocelyn!
Stories of Aloha: Homegrown Treasures of Hawaiʻi
By Jocelyn Fujii
Hula Moon Press, 2009
264 pages
*Disclaimer: We received complimentary copies of this book from the publisher.