I went to a party once at a coworker's house in Hawaii Kai, really nice digs. We drank wine; no green bottle or a Bud Light in sight. We ate hors d'oeuvers–you know, fancy kine pupus–and small sandwiches. I know, what kine party dat? I turned to Alex and said, "Cute yah, your san'wich! We go eat, fo' realz aftah dis." Sometimes, my pidigin comes out at the strangest times. When I'm trying to fit in, it wants me to stand out, coz stubborn li' dat.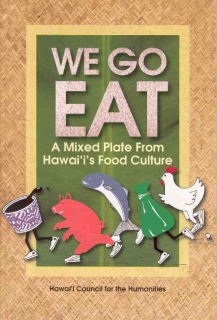 I was reminded of this while reading We Go Eat: A Mixed Plate From Hawai'i's Food Culture, a compilation of short stories and poems published by the Hawai'i Council for the Humanities. It almost reads like a who's who of Hawaii writers. There are a lot of notable people who have something to say about Hawaii foods and the memories they inspire. There's work by Kaui Philpotts, Lee Cataluna, June Watanabe, Bob Dye, Catherine Toth, and Betty Shimabukuro to name a few. Three other well-known authors from the book: Lee Tonouchi, Amalia Bueno and David Choo, will be at the Celebrate Reading Festival this Saturday to talk about the book, eating, and writing in general.
We Go Eat is now one of my favorite books about food in Hawai'i.. or food, period. It really brings local eats to a personal level and you understand its cultural significance by reading how people experience food. It's funny, educational and nostalgic–an entertaining read because we can all relate to the stories in it.
Amalia Bueno's story "The Chicharon Widows" about Filipina widows teaching the younger generation to cook made me think of Alex's mom, and how she always asks, "What you making?" whenever we stand in the kitchen. The women in Amalia's story teach the younger generation, through food, about life and taking care of family.
David Choo's honest reflection on his long-time column "Choo on This" made me think of how variable food is. Places change, trends come and go (do we really need SO many frozen yogurt places?!) and yet food is universal, it's the ultimate social network. Food and the process of breaking bread unites us. I like the part where Choo writes:
[gn_quote] That's what was beautiful about Hawai'i. We used to sit down together, eat each other's food and talk. [/gn_quote]
Last but not least for this review, Lee Tonouchi's "Da Zippy's Zip Pac Personality Test". My first thought, no kidding, was "mmm Zip Pac, but trade the teri-beef for extra fish". Really! NO bulai, that's the first thing that crossed my mind. And that's exactly what the story is about. Tonouchi masterfully breaks it down–you can tell a lot about a person based on their favorite part of the Zip Pac. Mines is fish so I'm "practical". There's a personality explanation for every item in the Zip Pac: fish, teri-beef, fried chicken, spam, rice with furikake, and takuan. Which one are you? If it's takuan… that one is the funniest. But I won't ruin it, you'll just have to ask him or go buy the book.
Everytime I read something by Lee Tonouchi, I crack up. Then I feel like I want to hug him, because to me, there's just something so comforting about pidgin (and Lee Tonouchi is all about pidgin). I got to meet him fas' kine, last year at the Hawaii Book & Music Festival. Alex and I were hanging about the Bamboo Ridge tent and Lisa Linn Kanae, fresh off her Cades award win, was gracious enough to introduce us. But I nevah hug him cuz I stay shy and little bit shame. You cannot jus' go make any kine and hug people when dey don't know you. Das how fo' start misunderstandings.
Don't forget, all three authors will be at Celebrate Reading tomorrow! Go listen to them talk story, then.. we go eat!