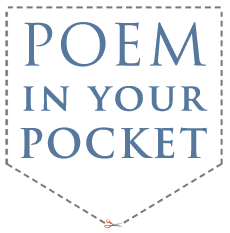 August 26th is National "Poem In Your Pocket Day"!
Hawaii Book Blog is going to celebrate by collecting local poems and putting them into a virtual aloha shirt pocket. When you click it a poem is chosen at random for you to enjoy!
 Originally we were just going to include some poems from W.S. Merwin, Don Blanding, Robert Louis Stevenson, Jack London and a few others (since I've been slacking off and neglected to write to any of the local publishers to ask for permission to use more recent poetry.)
However, some people have expressed an interest in submitting their own poems to share, and I think it's a fabulous idea! So… calling poets and poets at heart, celebrate poetry with us by submitting an original poem for our pocket! I know there are so many talented writer's out there and we're happy to include you if there's something  you want to share.
The poem can be any length and any topic (see our submissions guide).
Anyone who is a reader of HBB can submit a piece. Multiple submissions are allowed.
We cannot accept previously published work unless you (the author) own the copyright. 
Sadly we cannot pay you, but if your poem is included you still retain ownership rights over the work and agree to let us borrow it for our 2012 Poem In Your Aloha-shirt Pocket (a master list of all poems will also be available).
Deadline for submissions is April 24th, 2012 (Tuesday).
Please email all submissions to: mlsanico@hawaiibookblog.com
I think this is a fun little project that I'd like to do every year and hopefully it'll get bigger and better.