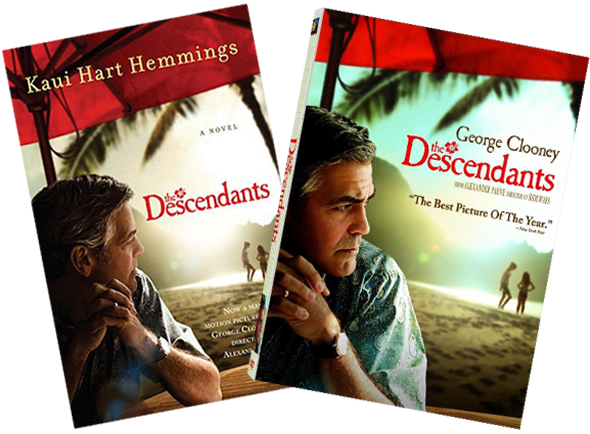 Thanks to the generosity of the people at Fox Home Entertainment and ThinkJam, we have a wonderful prize package to giveaway to two of our lucky readers!
We have two (2) combo packs to give away.  The combo pack includes:
DVD of the critically-acclaimed film "The Descendants" directed by Alexander Payne and starring George Clooney
A new copy of the novel The Descendantsby Kaui Hart Hemmings—the book that inspired the movie.
To enter to win, please leave us a comment below telling us one of the following:
If you've seen the movie in the theaters, what did you think?
If you've read the book, what did you think?
If you've done both, give us your thoughts on the film vs. the book.
If you've neither read the book or seen the movie, why you want to see/watch "The Descendants?"
For further inspiration, be sure to check out the official "The Descendants" Book to Film Discussion Guide we posted earlier.  Your comment below will count as one entry.  If you would like additional entries to help your odds, you can get up to four more entries by redirecting people to this post through social media:
On Twitter:  Any tweet or RT that leads back to this post.
On Facebook:  Share this page on your wall and we'll give you TWO extra entries. You can share straight from our own Facebook post.
On Google+:  Share this post publicly on your feed so that we can see it.
If you do any of these, please let us know you did so and include your Twitter, Google+, and/or Facebook username with your comment below so we can verify.  Remember, the social media options are extra entries, you won't be officially entered into the giveaway without commenting on this blog post. 
This giveaway is currently only available to residents in the United States and Canada.  The deadline to enter this giveaway is March 31, 2012 at Midnight, Hawaii Standard Time.  Two winners will be chosen from the entries at random.  Good luck and be sure to spread the word!!