"Visit your library today. It is a community hub of activity!"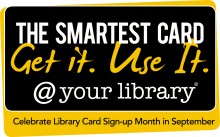 According to the American Library Association (ALA), September is the official Library Card Sign-up Month. This year they've tapped NBA star Dwyane Wayne as their celebrity supporter saying, "The library card is the smartest card in my wallet!"
All month, libraries across America will encourage people in their communities to sign up for library cards. Check out their "52 Ways to Use Your Library Card", one for each week of the year! Here are the one's we liked particularly:
Get to know your librarian, the ultimate search engine @ your library.
Learn about local candidates for office.
Get a list of community organizations.
Attend a lecture or workshop.
Hear a local author reading his/her latest novel.
Join a book discussion group.
Trek to another planet in a Sci-Fi novel.
Learn about the history of your city or town.
Use the library's resources to start a small business.
See a new art exhibit.
Volunteer as a literacy tutor.
Ask for a recommended reading list for your kids.
Enroll your child in a summer reading program.
Enjoy a concert.
Trace your family tree.
Pick up tax forms.
Connect with other people in the community.
Read a newspaper from another country.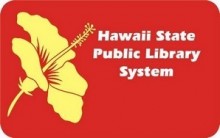 Personally, when I see that bright red Hawaii State Library card in my bag I like to think, "I've got the power!" Those of you who remember the 90′s will know the song "The Power" by Snap! (if not, look how nice I am to provide a video below for your nostalgic pleasure).
*sings* "I've got the power! It's get, it's get, it's gettin' kinda hectic"…because of all the books there are to read and things to do at your local library! Cheesy. I know. But no matter how old you are the catchiness of this song, and the usefulness of our public libraries cannot be denied. Do you have the power?
For  more info on getting the power of a Hawaii State Public Library card, visit the HSPLS website.