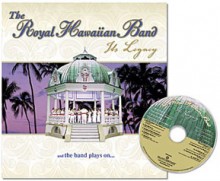 Mahalo to everyone who entered our Hawaii Book Blog Birthday Giveaway!  We appreciate all of the comments you provided and will take your feedback to heart as we continue to improve HBB for your enjoyment.  The winner of the giveaway will be receiving a free, brand new copy of The Royal Hawaiian Band:  Its Legacy by Scott Stone.  With the book is also an 18-track CD of music from the Royal Hawaiian Band as well!  This will be inside a tote bag filled with other Hawaii goodies.
To enter this giveaway entrants needed only to add a comment to our birthday post telling us what they like about HBB and/or what they would like to see more of.  After tallying all of the comments, one person was chosen at random using the random number generator at (what else) Random.org. Congratulations go to:
Cadia Los from Seattle
We'll be sending Cadia the HBB Giveaway tote bag complete with goodies and the book/CD as soon as possible!
Cadia wrote to me one of the most interesting e-mails I've received from an HBB reader.  Usually, I just get an address and confirmation from the person to use their name and location…but Cadia provided me with detailed information on how this book will go perfectly with her own personal interests.  With her permission, here is her fascinating connection:
The book on The Royal Hawaiian Band fits right in with my Don Blanding research and my more recent passion for Hawaiian music.  The DB connection?  Early in Blanding's career as an author, a young Hawaiian man offered wise counsel when he suggested DB repeat daily, "Lord, I Do Give Thee Thanks for the Abundance That Is Mine."

Blanding took the advice and later carved the initials of this saying on the mantelpiece of his home in Carmel-by-the-Sea.  The young Hawaiian man was Mike Hanapi, blessed with a beautiful tenor and falsetto and skilled on the acoustic steel guitar.  However, Hanapi's first instrument was the saxophone, to which he returned in 1938 when he came back to Honolulu.  From 1940 until his death in 1959, Hanapi played saxophone with The Royal Hawaiian Band.
Pretty cool, huh?  We love it when people connect the dots like this, and would love to hear more of this type of thing from all of our readers!  Anyway, mahalo once again to everyone who entered the giveaway, everyone who liked the birthday post with Facebook, and everyone who retweeted my tweets on Twitter!  We'll be doing more giveaways in the near future so as always, keep reading with us!