News Release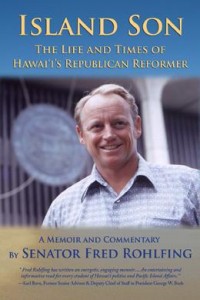 Former senator Fred Rohlfing will hold a presentation and discussion on past and current Hawai'i politics within the context of his memoir, Island Son: The Life and Times of  Hawai'i's Republican Reformer, at the Kaunoa Senior Center in Paia, Maui, on Wednesday,  July 20, 9:30-11:30 a.m. Rohlfing will be joined by Island Son editor Paul Wood who will add his perspective to the discussion.
$3 County of Maui fee to attend, with an option to purchase a $9 lunch.  Lunch to be served following the discussion. Call (808) 270-7308 for more information.
Copies of Island Son will be available for purchase following the event.
A fresh look at Hawai'i politics, past and present, is the theme of Fred Rohlfing's autobiography—Island Son: The Life and Times of Hawai'i's Republican Reformer, released by Legacy Isle Publishing. In his 280-page memoir, the former state senator and long-time public servant provides an alternative view of life in Hawai'i's traditionally Democratic-controlled political arena.
For more about the book, you can read our review of his book here: [Book Review - Island Son: The Life and Times of Hawaii's Republican Reformer].  Here's an excerpt:
Overall, this book both serves as a unique looking glass from which to view Hawaii's past political experiences and as a guide for young and potential Republicans—there's an inkling of hope in Rohlfing's words that Hawaii's Republican Party, by following his example of moderate/progressive ideals, inventive problem-solving, and cooperative policy-making, can break out of its shell and become a contributing force once again in Hawaii government.
If you have any questions or requests surrounding the events or author, please contact  Legacy Isle Publishing.