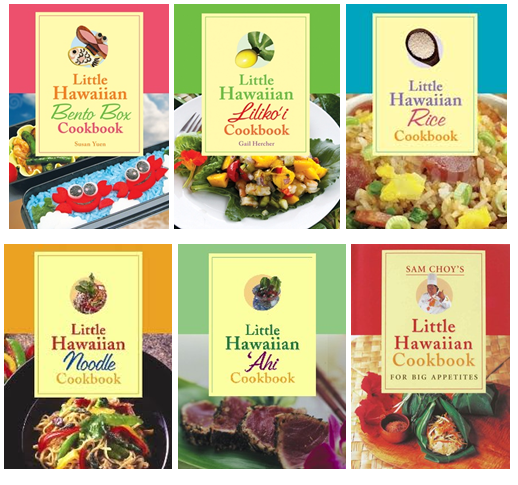 I adore Mutual Publishing's collection of  "Little Hawaiian Cookbooks" because they've got great local recipes, nutritional info and yummy photos all in one compact package.Plus they're the perfect size for gift giving! As an experiment Alex and I tried to see how many of these cuties we could fit into an average sized stocking and we were able to squeeze in SIX, but that doesn't leave room for the important stuff like candy and lihing mango and mochi crunch. Don't have a stocking? No worries, pair one or two of these books with some handmade recipe cards or a jar of dry ingredients and you're all set.
This year Mutual has come out with three more to add to the bunch. The Bento Box Cookbook by local bento guru Susan Yuen, The Lilikoi Cookbook by Gail Hercher and the The Rice Cookbook. We'll take a quick look at them here:
The Little Hawaiian Bento Box Cookbook is a shorter version of Susan Yuen's series Hawaii's Bento Box Cookbook 1 & 2. This Little Hawaiian version is like a greatest hits album–it has the best bento recipes and creative ideas from both books. Give this away with a cute little bento box or some adorable food cups and you're sure to inspire many home lunches. Know anyone who needs to save money in the new year? There you go.
The Little Hawaiian Lilikoi Cookbook has recipes for mostly drinks, sauces and desserts including a lilikoi frosted almond cake that would be the talk of any holiday potluck. However, fresh lilikoi can be a pain to work with so I love the first section on cocktails. Lilikoi juice is easier and some of these drinkie recipes are too yummy and too simple to resist for a party. Know anyone who is a hostess with the mostest? Give this away with some martini glasses, shake over ice and call a taxi… cuz this book is small kine dangerous.
The Little Hawaiian Rice Cookbook is chock full of rice recipes and since rice is a local staple that we eat at almost every meal, there's no shortage of ways to prepare it. With salads, main dish and dessert options there's no excuse for that left over rice in the pot to go bad… just pop out this handy-dandy Little Rice Cookbook and you're practically gourmet. I think this book can even fit in the kitchen junk drawer, that's how convenient it is. Know someone with a big family who's always making a big pot of rice (you know which one, the 20 cup kine)? They will surely be able to use this paired with a bag of rice or a new rice paddle.
That's it for the Little Cookbooks this year. You can buy these or any of the older ones online or at Target, Walmart, Longs and other local stores.