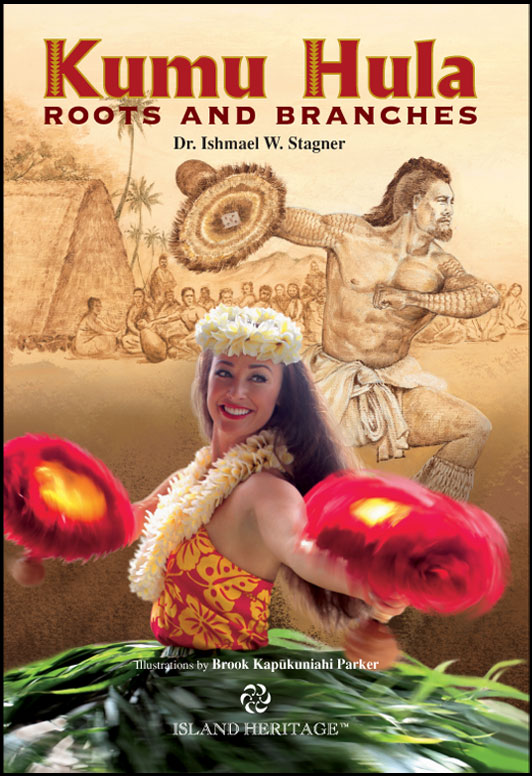 Kumu Hula Roots and Branches (Island Heritage, 2011) by Dr. Ishmael Stagner is one of the most comprehensive books about the art and history of hula. It's the story of hula from an insiders intimate perspective. Uncle Ish is a cultural leader and educator of the highest degree and using his many years of expertise, has created a book that will appeal to a variety of audiences–from the casual  reader to the hula savvy.
Following hula from pre-contact to the modern years, Stagner writes about how this important cultural art form has evolved and changed. I was shocked to learn that much of what we know about hula is fairly recent and that sadly, many aspects of ancient hula have been lost to time and periods of intolerance. Stagner breaks down all the basic aspects of hula explaining the various steps and movements with details on significant body parts like the knees, hands and wrists. He also writes about hula instruments, music, and costume and how these things have changed or stayed the same. He even has a short section on competitions and some of the controversy around hula contests. But overlaying all of this wonderful, informational detail Stagner emphasizes that hula is spiritual, and a way of living. Through hula we learn about our past, present and future–we learn about life.
Stagner puts particular focus on kumu hula and how the status of kumu hula has depreciated with the worldwide popularity of hula. One of the most unique aspects of the book is his inclusion of kumu hula genealogies and oral histories. This is something very valuable to record and it's interesting to see and follow the "lineage" of some of our most well known and loved kumu hula and their halaus, and how their individual styles changed or influenced the practice and culture of hula around the world.
Although some of the information seems repetitive to those who know hula well, this is a very useful and well written book. But more than that, you can tell it was compiled with aloha. In an interview with the Honolulu Star Advertiser, Stagner gave one of his reasons for writing the book as:
"Now we must do our part to impart what we have learned to the next generation of young people. Otherwise, we have people dancing hula and going through the motions without the basic spiritual underpinnings."
Uncle Ish will be presenting a session on the hula legacy of Princess Nahinu and how many of our beloved kumu hula are her descendants at the Distinctive Women in Hawaii History Program this weekend. You can still register to attend!
And then on Monday, September 17 at Bishop Museum from 6:00 pm – 7:30 pm, in the Pāki Conference Rooms he will be doing an encore discussion session with Julia Flynn Siler  author of Lost Kingdom. This event is free and open to the public.