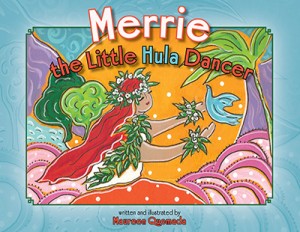 Just in time for the Merrie Monarch Festival, we thought we'd share with you a new keiki book from Mutual Publishing. Merrie the Little Hula Dancer, written and illustrated by Maureen Quemada, is a colorful picture book about the joy of dancing hula and sharing that joy with others.
Merrie is a lonely hula girl dancing by herself. One day she makes a secret wish for friends to dance with. The wish grows wings and brings Merrie a whole bunch of hula sisters. One by one, a new hula girl is added to the bunch and soon they are a halau. Merrie is happy to have others to dance with as they share their hula together.
This charming little counting book, with the numbers in both English and Hawaiian, has a great story. It reflects the heart of hula as something that brings people together, something that is shared. It's no fun dancing alone. It's better when there are others! You can't deny the awe-inspiring beauty of a dozen hula girls dancing in sync, with perfectly timed hulis and arms stretched toward the sky.
There is a rhyming scheme in the book; it adds a nice melodic quality to the story that fits well with the hula theme. Quemada's illustrations have a lot of texture and color that are fun to look at. There's not a lot of detail in the pictures but the simplicity works to its advantage. It's short and sweet, a great gift for any hula girl in your life. 🙂
* a copy of the book Merrie the Little Hula Dancer (ISBN Hard Cover: 1-56647-944-4) was provided to HBB in exchange for a fair and honest review.