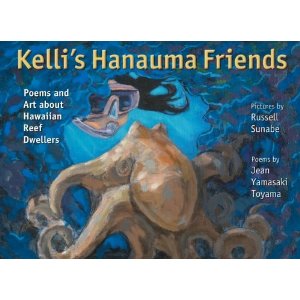 Summer is here and it's time to dig out the beach gear: bucket, shovel, fish net, surf shorts… don't forget the snorkel!
**Impromptu comma lesson–There's a big difference between "fish net surf shorts" and "fish net, surf shorts." Visual aid not included.**
We were recently introduced to this charming new keiki book Kelli's Hanauma Friends by author and poet Jean Yamasaki Toyama, who has received much acclaim for her role in the renshi book of poems No Choice But to Follow. In this short book for kids, her fun, lighthearted poems are the perfect accompaniment to the colorful paintings by her talented nephew, Russell Sunabe.
Each page is a new scene in Kelli's underwater adventure at Hanauma Bay. She sees all kinds of fish, an eel, and more. We learn the common name, the Hawaiian name, and the scientific name of each creature that she meets. Kelli speaks to each animal through short poems. These enchanting poems, with a few pidgin words mixed in, give Kelli's voice character and animation as she explores the reef.
After you read each short poem it's easy to get lost in the illustration as you explore with Kelli because Sunabe's paintings are detailed and realistic, although, the watercolors add a bit of whimsy to it. In one particular illustration you see Kelli's foot as she's about to unknowingly step on a sand fish camouflaged on the ocean floor! It's interesting to read the book aloud to kids because they immediately pick up on the impending danger just by looking at the picture. This is an example of what I enjoyed most about the book, how easily you could engage in it.
Toyama said she wrote the poems and published the book because she loves to snorkel and always found the underwater world to be a magical place. Kelli's Hanauma Friends is certainly a fun summer read that will likely inspire you to get out to the beach with your snorkel in hand. Are your kids participating in one of the public libraries' summer reading programs? This is the perfect book to add to their reading list!
You can buy Kelli's Hanauma Friends, where else but at Hanauma Bay! Or you can buy it online at amazon.com.
Stay tuned… we'll be giving away a signed copy of this book during HBB's 3rd Birthday Celebration!! Details coming soon.