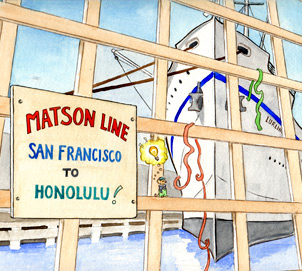 When award winning author of The White Ships, Duncan O'Brien, contacted us about a new book he had coming out featuring the S.S. Lurline, I was immediately curious. After all, Alex isn't the only one at HBB who loves history. But then he mentioned that it was an illustrated keiki book titled Matson the Mouse (Pier 10 Media, 2011) and I was ecstatic. The first thing I thought was, "what a fabulous idea!"
Matson is a mouse who lives on the piers of San Francisco. He loves to watch the great white ships move in and out to sea and dreams of sailing away on adventure in the South Seas. His friend Sprecks the Seagull is often a stowaway on the Lurline and offers to show Matson around the next time the boat is in port. But through a twist of events, Matson himself ends up stowaway and on his way to Hawaiʻi! At first he's a little scared, but he makes some new friends and has a great time discovering all there is to do aboard the ship. Fancy dinners with dancing, live theater performances and beautiful sunsets, Matson sees them all aboard the Lurline. Children will love Matson's curious and positive personality and enjoy following along on his adventure in such a unique mode of transportation.
I love it when a kids book manages to be entertaining, culturally relevant, and historically educational all at the same time. Matson the Mouse fits the bill on all accounts. It's a vibrant adventure and a great way for keiki to learn about the S.S. LURLINE and her very special role in Hawaiʻi's  history.
I would certainly recommend this book, especially if you're traveling with keiki to or from Hawaiʻi. It might be a nice exercise to explore how people used to travel then on the steamships versus how they travel now. The book's themes of adventure and friendship are relatable to kids of all ages and the colorful pictures energize the story. Illustrator Robyn Drage did an excellent job portraying the Lurline. Her detailed and expressive pictures add an extra level of fun to the story. My only issue was that there were a couple pages where the text was a bit awkward to read because of the pattern of the illustration it was printed over. Still, I wonder what other escapades our new friend Matson the Mouse will have aboard ships of the Matson Fleet.
Come see Matson the Mouse this Saturday, Oct. 29th– 11:00 am at The Royal Hawaiian Hotel for a world premier book release and celebration! Matson the Mouse will be there, author Duncan O'Brien will do readings and there will be a live musical performance by Kawika Alfiche! Don't miss it, we won't.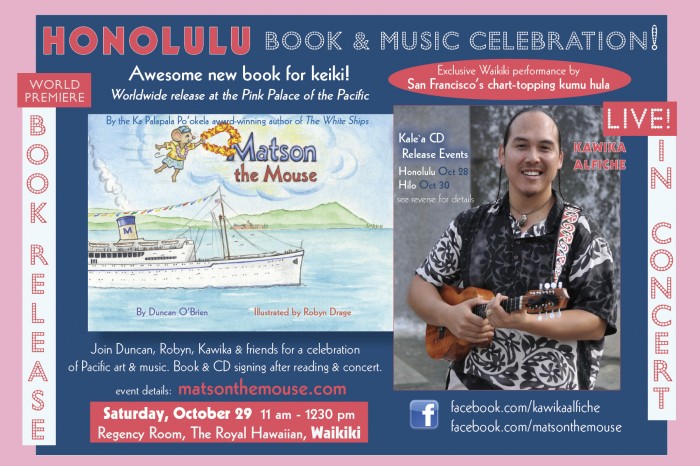 *Disclaimer: We received a complimentary copy of this book from the publisher in exchange for our honest review.