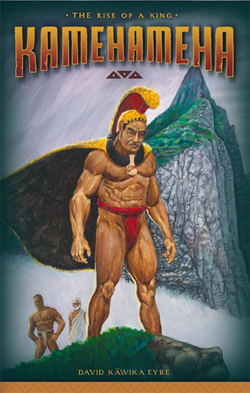 In the final, dramatic pages of  Kamehameha: The Rise of a King (Kamehameha Publishing, 2013) author David Kāwika Eyre elegantly writes what the last moments of life may have been like for Kamehameha I–the beloved chief's parting words of wisdom and guidance for his people summarizing all that he fought to accomplish. However, it was these words about the future that were most haunting and inspiring:
"As for our children, train them well. Teaching our young is an act of aloha. Let our ancestors be seen in our children!"

He was quiet. A light the color of kukui flowers sifted through the air.

"Tell our stories to them! It is by our stories that we live! Without them we grow blind, we go deaf, and finally we die in despair. Tell our stories over and over. They hold our dreams and our destiny. And stories untold will never be told again." His breathing came hard. "Be stubborn in these things that our children may know!"
This novelized version of Kamehameha I's epic life is written specifically for a young audience and does exactly that. It tells the story in an unforgettable way. It's a deeply nuanced hero tale filled to the brim with intrigue, betrayal, love, war and all the things that make books fun to read. But it's also years of research and biographical data brought to life in a book about Kamehameha that is unique in its telling, the perfect marriage of history and legend.
Sometimes the "story" in history can be sparse or the details in legends can be meager and it's challenging to add muscle to the bare bones of facts, especially in a way that honors a culture and people so historically abused in fiction and other literature. To take a beloved cultural icon and historic events that are still sensitive to generations of people and then create a dynamic and entertaining narrative that brings new perspective, is a daunting task. Eyre, an educator and author who previously penned a twelve book series for young readers about Kamehameha, accomplishes this with great regard and deference.
As soon as you open the book, there's a lot to love. A map of the islands on the inside cover, a table of contents set-up like a timeline, and the book dedication to his grandchildren and students made me a fan from page one. Phenomenal art by Brook Kapūkuniahi Parker not only graces the cover but is also interspersed throughout the book illustrating and enhancing scenes poetically woven by Eyre's text. You can read the book cover to cover as one long story, or just a segment at a time. Each chapter focuses on a different place and time in Kamehameha's adventurous life and can stand-alone from the rest. This means there's some repetition that takes a bit of getting used to but it all just adds to the style and ambiance of the book.
Rich with detail of important places, people and events one of my favorite aspects of this book is the way the Hawaiian language is integrated into the story. Eyre liberally uses Hawaiian words and phrases but more importantly the language speaks for itself. Even without direct translations in parenthetical italics or footnotes, you understand what is being said through the context of Eyre's storytelling. This is no surprise given that Kāwika Eyre taught Hawaiian language at Kamehameha Schools for over twenty years.
Overall, Kamehameha: The Rise of a King is an interesting piece of historic fiction that brings the events of Kamehameha's life to a new generation. This book is a thoughtful and thrilling read for adults and children alike. Even those familiar with Kamehameha's history will find something newly revealed. It's a story that should be shared, discussed and treasured. Because in a world of young adult popular fiction like Twilight and The Hunger Games this book would hold its own and better because it's based on a true story.
Earlier this year, Kamehameha: The Rise of a King was the recipient of the Ka Palapala Po'okela Award for Excellence in Children's Hawaiian Culture. It should be on a DOE mandatory reading list. "Be stubborn in these things that our children may know!"
Kamehameha: The Rise of a King
Kamehameha Publishing, 2013
Softcover, 215 pages
ISBN:978-0-87336-320-4